Clients awarded £4.3bn worth of work compared to around £5.3bn the month before
Clients handed out around £4.3bn of construction work in November – down by £1bn from the month before, Glenigan data has revealed.
The figures (see Building Boardroom) reveal that the most work was awarded in the industrial sector, with firms here inking deals worth just under £820m – or around 19% of all work awarded in the month.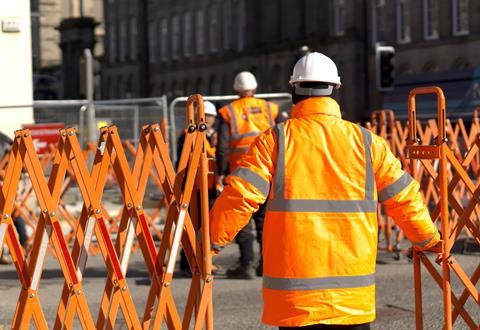 After industrial, the next most prolific sector was social housing, with clients here awarding firms £556m of business.
This was followed by those in the private housing and utilities sectors, at around £447m and £413m respectively.
A £150m contract from Inch Cape Offshore, was the most valuable award of the month, with Boskalis handed the deal to build a wind farm in Westhill, Scotland.
The wind farm, which will comprise of up to 72 wind turbines, is yet to acquire detailed planning approval.
Meanwhile, the data also revealed that almost £11bn worth of projects were approved in November, up 26% on the £8.7bn approved in October.
The utilities sector was the market with the highest value of projects given the green light, with permission secured for 64 schemes worth almost £3.76bn.
After utilities, private residential achieved the second highest value of approvals at just over £2.62bn, followed by industrial at £1.24bn.
Top spending clients - November 2021
The data above and below is a sample of the information on contract awards by sector for November put together by Glenigan. It represents just a small part of the client intelligence that is accessible through the Building Boardroom Network.
Infrastructure
| Ultimate company name | Total number of projects | Total value of projects |
| --- | --- | --- |
| Network Rail | 3 | £55m |
| Department for Transport | 5 | £43m |
| Glasgow City Council | 1 | £30m |
| DB Symmetry | 2 | £28m |
| Translink | 1 | £17m |
| Ask Real Estate | 1 | £13m |
Education
| Ultimate company name | Total number of projects | Total value of projects |
| --- | --- | --- |
| Department for Education/Education Authority NE Region Prop Services | 1 | £50m |
| University of Edinburgh | 1 | £30m |
| Nottingham Trent University | 1 | £20m |
| Department for Education/Sandwell Metropolitan Borough Council/The Chance Academy | 1 | £17m |
| Aberdeen City Council | 1 | £14m |
Hotel and leisure
| Ultimate company name | Total number of projects | Total value of projects |
| --- | --- | --- |
| Flintshire County Council | 1 | £30m |
| Molo Hotel Group | 1 | £25m |
| Alliance/Starwood Capital Group | 1 | £25m |
| RM Funds/Siggis Capital | 1 | £18m |
| CBRE/Whitbread | 1 | £15m |
Industrial
| Ultimate company name | Total number of projects | Total value of projects |
| --- | --- | --- |
| GLP | 1 | £82m |
| St Modwen Properties | 4 | £62m |
| Amazon UK | 4 | £61m |
| Segro | 1 | £58m |
| Chase Commercial | 1 | £49m |
Medical & scientific
| Ultimate company name | Total number of projects | Total value of projects |
| --- | --- | --- |
| Dyson | 1 | £120m |
| Department of Health | 21 | £73m |
| Department of Health/South Tyneside Council/Sunderland City Council | 1 | £36m |
| Department of Health/Stride Treglown | 1 | £21m |
| Evermore Care | 1 | £15m |
Commercial
| Ultimate company name | Total number of projects | Total value of projects |
| --- | --- | --- |
| Willow Development | 1 | £87m |
| Queensberry Real Estate/Sherwood Thames Ventures | 1 | £52m |
| M&G Real Estate | 2 | £45m |
| Commercial Estates Group | 1 | £20m |
| Shorts Gardens | 1 | £20m |
Private housing
| Ultimate company name | Total number of projects | Total value of projects |
| --- | --- | --- |
| Court Collaboration/Moda Living | 1 | £93m |
| 6 Balfour Place/Real Estate, Design & Development, | 1 | £40m |
| Land Securities Group/LS Victoria 2 | 1 | £25m |
| Olayan Europe | 1 | £24m |
| Umberslade Securities | 1 | £24m |
Retail
| Ultimate company name | Total number of projects | Total value of projects |
| --- | --- | --- |
| John Lewis | 4 | £38m |
| Aldi | 5 | £11m |
| Lidl UK | 4 | £9m |
| Tesco | 8 | £8m |
| B&M/Hargreaves Haulage | 1 | £6m |
Social housing
| Ultimate company name | Total number of projects | Total value of projects |
| --- | --- | --- |
| Be First Regeneration/London Borough of Barking & Dagenham | 1 | £63m |
| Clarion | 1 | £36m |
| Metropolitan Housing Partnership/Southern Grove | 1 | £35m |
| BCP Council | 2 | £34m |
| Blackpool Borough Council | 2 | £29m |
The Building Boardroom Network is an easy-to-use portal where you can access a wide range of vital business insight including research and tools to help bring your construction clients to life. Find out more at: https://www.building.co.uk/building-boardroom/

* private housing awards data refers to external contracts only and does not include frameworks
** projects awarded by a joint venture are listed independently to both single party clients