Clients awarded £5.5bn worth of work compared to around £4.5bn the month before
Clients handed out around £5.5bn of construction work in June – up by around £1bn from the month before, Glenigan data has revealed.
The figures (see Building Boardroom) reveal the most work was awarded in the utilities sector, with firms here inking deals worth just over £1.17bn – or around 20% of all work handed out in the month.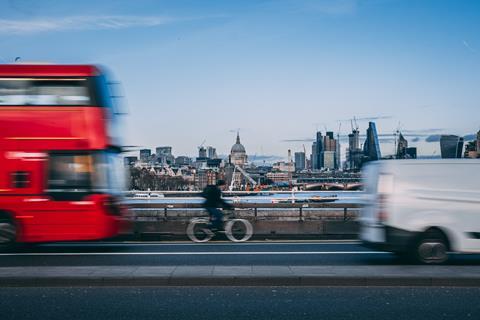 The bulk of this, £1bn, was from a Greater London Authority deal with BAI Communications to install 2,000km of cabling within the tunnels and stations of the London Underground to provide full fibre internet coverage throughout the Tube network.
After utilities, the next most prolific sector was commercial, with clients here awarding firms £756m of business.
This was followed by those in the hotel and leisure sector, at £655m, and infrastructure clients awarding £550m worth of work.
Aside from the full fibre deal the top deals signed in the month included the win by Laing O'Rourke to build Land Securities and LS Lavington Street's £190m Timber Square development and Kier's £160m contract win to build Public Health England's new Essex hub.
While both these deals had been previously announced they were finalised last month.
Meanwhile, the data has also revealed that £6.95bn worth of projects were approved in June, 26% up on the £5.5bn approved in May.
The private housing sector was the market with the highest value of projects given the green light, securing permission for 323 schemes worth almost £2.2bn.
After private residential, hotel and leisure achieved the second-highest value of approvals at £965m. This was largely due to the approval of Everton's £505m new stadium.
It was followed by utilities at £916m. This was once again dominated by one high-value approval, Intelligent Land Investments' £550m Loch Ness pumped storage scheme.
Top spending clients - June 2021
The data above and below is just a sample of the contract awards by sector for June put together by Glenigan. They are just a small part of the client information that is accessible through the Building Boardroom Network.
Infrastructure
| Ultimate company name | Total number of projects | Total value of projects |
| --- | --- | --- |
| Department for Transport | 6 | £205m |
| Norfolk County Council | 1 | £105m |
| Northamptonshire County Council | 1 | £55m |
| Welsh Government | 2 | £41m |
| Redrow | 2 | £20m |
Education
| Ultimate company name | Total number of projects | Total value of projects |
| --- | --- | --- |
| Anglia Ruskin University | 1 | £35m |
| Department for Education/Hertfordshire County Council/Hertfordshire School Building Partnership | 1 | £35m |
| Department for Education/Stratford-On-Avon District Council | 1 | £27m |
| Education Authority NI/St Patricks Educational Trust | 1 | £26m |
| Ministry of Defence | 1 | £25m |
Hotel and leisure
| Ultimate company name | Total number of projects | Total value of projects |
| --- | --- | --- |
| The Wheat Quarter | 1 | £80m |
| Marylebone Lane LP/Shiva Hotels | 1 | £60m |
| Angelo Gordon and Co/Beltane Asset Management | 1 | £60m |
| Liverpool Football Club | 1 | £60m |
| Cola Holdings/Westbury Hotel | 1 | £54m |
Industrial
| Ultimate company name | Total number of projects | Total value of projects |
| --- | --- | --- |
| Clowes Developments | 1 | £75.61m |
| Prologis UK | 3 | £75.488m |
| SmartParc | 1 | £48.39m |
| Tristan Capital Partners | 1 | £37.33m |
| Graftongate Developments | 1 | £20.5m |
Medical & scientific
| Ultimate company name | Total number of projects | Total value of projects |
| --- | --- | --- |
| Department of Health | 22 | £187m |
| Public Health England | 1 | £160m |
| Marbrook Care | 1 | £12m |
| AG Colworth Park BV/Trinister Investments Lux Sarl | 1 | £12m |
| Brackley Investments | 1 | £10m |
Commercial
| Ultimate company name | Total number of projects | Total value of projects |
| --- | --- | --- |
| Land Securities/LS Lavington Street | 1 | £195m |
| Council for the Central Laboratory of the Research Councils/UK Research and Innovation | 1 | £45m |
| NAFT Trading and Technology Company | 1 | £40m |
| HPREF Woolworths Investment | 1 | £40m |
| Melbourn Science Park | 1 | £31m |
Private housing
| Ultimate company name | Total number of projects | Total value of projects |
| --- | --- | --- |
| Vastint Hospitality | 1 | £35m |
| Langtree Property Partners/Oldham Metropolitan Borough Council | 1 | £35m |
| Castletown Town Commissioners | 1 | £26m |
| Inspired Villages/Senior Living | 1 | £25m |
| Paradigm Housing Group | 1 | £25m |
Retail
| Ultimate company name | Total number of projects | Total value of projects |
| --- | --- | --- |
| Aldi | 8 | £22m |
| Lidl UK | 8 | £22m |
| Morrison Supermarkets | 3 | £13m |
| Iceland Foods | 6 | £8m |
| Bracknell Regeneration Ltd | 1 | £7m |
Social housing
| Ultimate company name | Total number of projects | Total value of projects |
| --- | --- | --- |
| Metropolitan Housing Partnership/Plutus Estates/The Wheat Quarter | 1 | £50m |
| Melin Homes | 1 | £43m |
| First Ark/Livv Housing | 1 | £28m |
| City of Edinburgh Council/North Edinburgh Arts | 1 | £26m |
| Ashfield District Council | 1 | £25m |
The Building Boardroom Network is an easy to use portal where you will be able to access a wide range of vital business insight including research and tools to help bring your construction clients to life. Find out more at: https://www.building.co.uk/building-boardroom/

* private housing awards data refers to external contracts only and does not include frameworks
** projects awarded by a joint venture are listed independently to both single party clients