Bouygues awarded £44m contract for residential scheme with L&Q in south east London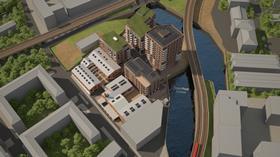 Bouygues UK has won the £44m contract for the South-east London residential development Faircharm.
A 13-week demolition programme is already underway on the Faircharm site, which will see Bouygues UK build 148 homes across four buildings, including a 13-storey tower and deliver 4,500 sq m of commercial space at ground level.
The Faircharm project on the former Zenith Carburetter factory at Creekside in Deptford, Lewisham will be delivered in four phases with the first phase scheduled for handover in April 2017. The overall development is expected to take just under two years to deliver. It is Bouygues second major housing scheme with L&Q in the area.
Bouygues UK deputy chief executive Lionel Christolomme, said:"L&Q is one of the largest housing associations in the country and the Faircharm project forms part of their plans to deliver 5,000 new homes per year – bringing more homes to the market for people living in London.
"We have a long history with L&Q, which began through Denne and our work together on smaller housing developments and has continued as Bouygues UK. Having the weight of the entire Bouygues UK group, and all of the expertise that brings with it, is key to us having the ability and capacity to deliver much bigger schemes than we had been known for in the region.
Through our strong and collaborative working relationship, we're happy to be supporting L&Q's ambitions for further growth.
"Add this project to our work on Havelock Estate in Ealing; the Gascoigne East Masterplan in Barking and Dagenham; Hallsville Quarter in Newham and Paddington Exchange in Westminster and we have a considerable portfolio of major housing and regeneration projects in London. We're delivering homes for people right across the capital - and with a number of projects in the pipeline, we expect this to grow even more during the course of 2016."