Designed by CPMG Architects the new office will feature a triple-storey atrium
Bowmer & Kirkland is set to start work on the new UK head office for British Sugar, after being appointed as main contractor.
The building designed by CPMG Architects will occupy a 1.8 ha site in Hampton, near Peterborough.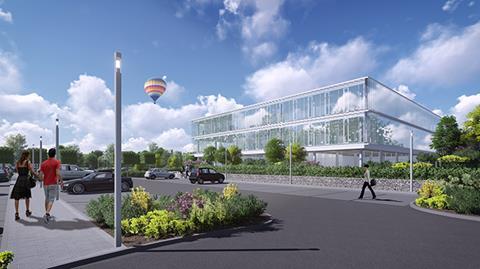 The wider project team includes Couch Perry and Wilkes as building services engineer and Curtins Consulting for structures.
The new office will house a mix of formal and informal working space plus a cafe, arranged around a triple-storey atrium. It will accommodate up to 350 employees.
The project will start on site this month and is expected to complete towards the end of 2018.
Richard Flisher, director for CPMG said: "Our design, based on the simple yet effective concept of a white box, means the building won't look out of place in years to come and will meet the changing needs of British Sugar well into the future.
"Natural daylight and the wellbeing of employees was a key concept in this design and the office spaces will be set around a triple-storey atrium and central staircase to further maximise collaboration and the integration of functional teams."
Catharine Uglow, director of organisational effectiveness at British Sugar said: "This is an exciting time for British Sugar. The new building will feature a mix of formal and informal working space and a café area facilitating indoor and outdoor working/social space. The building has been designed to support our ambition for improved light, air quality and flexible space for colleagues to enjoy working in."