Brookfield Multiplex will act as principal subcontractor to Chinese contractor Citic Construction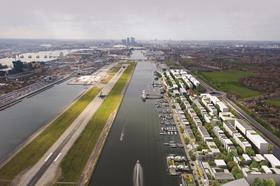 Chinese developer ABP has confirmed the appointment of Brookfield Multiplex as a builder on the first stage of its £1.7bn Royal Albert Docks scheme.
Multiplex has been appointed principal subcontractor, while Chinese contractor Citic Construction has also been confirmed as main contractor on the job.
The first phase of the 35-acre site running from Stratford down to the River Lea to the Thames comprises 1.2 million sq ft and is due to start by the end of this year with completion expected by 2018. The entire scheme is due to complete within 10 years.
Around 20 people from CITIC Construction and Brookfield Multiplex are already working on scoping the construction programme for the first phase, while contractor Careys is currently working on the £2m enabling works programme, which is expected to last 14 weeks.
Xu Weiping, chairman of ABP Global Group said: "The bilateral exchanges between China and the UK have never been stronger and the progress of the project demonstrates ABP's commitment of creating London's next business district at Royal Albert Dock and creating better life and more jobs to the area by promoting the trade between UK and Asia."
A spokesperson for Brookfield Multiplex said "This is an opportunity for two global construction businesses to work together and collectively deliver on the vision of ABP and its leadership.
"This ground breaking delivery model will potentially set the high bar for future developments to follow".
Former Mayor of London Boris Johnson announced in May 2013 that ABP would lead the development of the 35-acre Royal Albert Dock site, as part of a deal, with UK partner Stanhope acting as development manager.
Citic Construction a subsidiary of the Citic Ltd China's largest conglomerate operating domestically and overseas in sectors such as financial services, resources and energy, manufacturing, engineering contracting and real estate as well as others. Citic Group, a Chinese state-owned enterprise, owns 58% of Citic Limited.