Last three months of 2017 reveal first decline in four years, CECA warns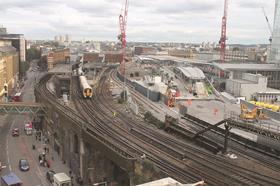 The Civil Engineering Contractors Association (CECA) has told the government to speed up jobs after workloads suffered their first quarterly decline in five years.
Its Workload Trends Survey for the final quarter of last year surveyed 105 contractors across 10 sectors including motorways and trunk roads, airports and railways.
It revealed that for the first time since 2013, workloads fell according to 4% of firms, on balance. This compares to 24% in the prior quarter that reported workloads had increased. Overall, more than a third (35%) of respondents said workloads had fallen, with 31% reporting that they had increased.
Half of the sectors surveyed reported workloads had slipped from a year earlier, with railways reporting the weakest balance (-32%) marking the sixth consecutive quarter of decline. Motorways and trunk roads and electricity also reported negative balances.
Order books fell for 10% of firms, on balance, compared to the year ago period, compared to a balance of 13% reporting a rise in Q3. This was the lowest balance since Q3 2012.
Overall, 43% of firms said order books had decreased and 32% said that they had increased. But on balance, 28% of firms expect workloads to increase over the next 12 months compared to a balance of 23% in Q3.
Compared to 12 months ago, tender prices were higher on balance, for 36% of firms for new construction work and improvement, and 27% for repair and maintenance work, but the former is the lowest balance since Q4 2013.
On balance, only 4% of respondents reported an increase in tender prices for new construction work and improvement, the lowest balance in five years.
Marie-Claude Hemming, director of external affairs at CECA, said: "These disappointing figures show that more must be done to unlock planned infrastructure investment.
"CECA calls on government to do more, by committing to projects outlined in the National Infrastructure Delivery Plan, and to continue to develop projects to add to this pipeline to secure the future of the UK economy. Our hopes are that the decline in workloads during 2017 Q4 are representative of a pause in activity, rather than a sign of broader decline."
She added that rail work was a particular worry given that it is "far below" the sort of investment it had expected to see.