The scheme designed by SPPARC won planning approval last summer from Southwark council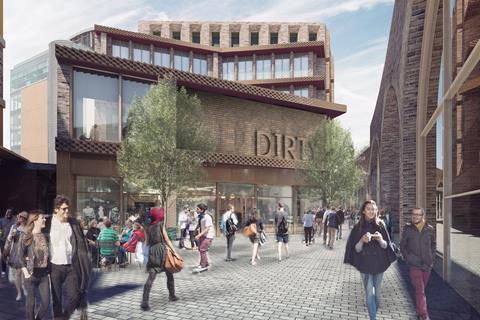 Kier, Mace and Wates are in the running to build a £300m "Covent Garden-style" scheme next to London's foodie mecca Borough Market, Building has learned.
Architect SPPARC's designs for the area immediately west of Borough Market, including the site formerly occupied by wine and whisky attraction Vinopolis, received the green light from Southwark's planners last summer.
It is understood the trio of contractors are bidding for the work, with tenders due by the end of the month. Keltbray is already on site carrying out enabling works.
The site, which also incorporates several rail arches, a car park and an old warehouse, is being redeveloped by a joint venture between developer Sherwood Street and investment fund manager Meyer Bergman, who are also behind the redevelopment of Whiteleys shopping centre in Bayswater.
Tom Sherwood, owner of Sherwood Street, previously told Building the site was "one of the last locations" left in London for a scheme "of this size".
Plans for the Stoney Street project were originally submitted in August 2015, but following comments made by planning officers, consultees and residents they were revised and resubmitted in May last year.
The development comprises five buildings or elements totalling 18,375m2, including 10,369m2 of retail and 5,761m2 of office space and a cinema. The scheme also proposes to revive railway arches and create new routes through the hitherto inaccessible spot as well as reviving the original Elizabethan street names to the area, such as Dirty Lane.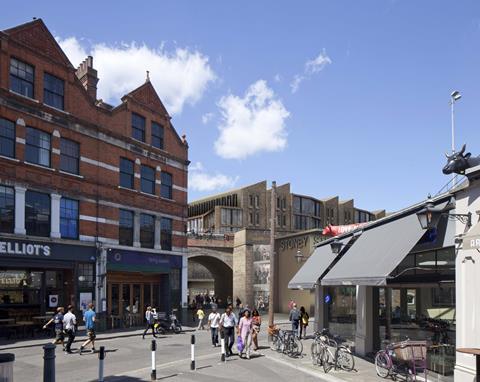 Southwark council's director of planning Simon Bevan admitted last summer in his report to Southwark's planning committee that the redevelopment process of the site would be "challenging" due to the limited amount of space for construction vehicles, but said materials could be stored onsite. The redevelopment programme therefore is to be done in three phases - demolition and piling, excavation and then construction.
SPPARC principal Trevor Morris said the designs for the new buildings have been "influenced by the surrounding architecture".
Morris adds the designs aim to reinstate "lost medieval north/south pedestrian links through the site," as well as create a public yard.
The wider project includes Gleeds as quantity surveyor, Pell Frischmann as structural engineer and Meinhardt as the M&E engineer.