Three border control posts to be built to handle post-Brexit trade from the EU
Contractors have been put on notice for deals to build border control posts at British ports as the UK gets ready for Brexit.
Three new border control posts will be built at ports in Plymouth, Hull and Immingham for Associated British Ports (ABP), which operates 21 ports around the UK and manages around a quarter of the country's overseas trade.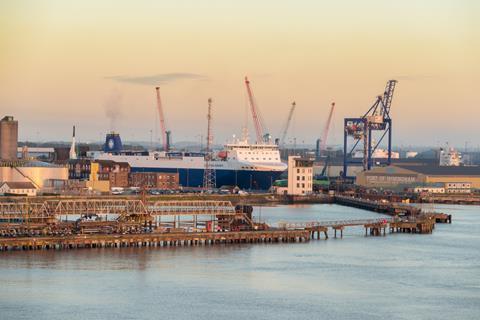 The three jobs are worth a combined £16.5m
The scheme at Plymouth is valued at £4.5m and the two schemes at Hull and Immingham have a combined value of £12m, with the three jobs running from 15 December this year to 30 June 2021.
All three will need to be up and running by 1 July 2021, the date when the new border controls on goods entering the UK will come into force.
Building understands that a fourth scheme at Southampton port is being considered.
Ports around the country are currently scrambling to build the infrastructure needed to process the added checks required on EU goods next year, with each port having different requirements based on the types of goods which are managed.
The three schemes for ABP will consist of new buildings, carparks and roads, but other ports may require large sheds to handle imports of live animals.
A spokesperson for ABP said the port operator is "in the initial stages of tendering for the design and construction of the border infrastructure required for three ABP ports", adding "We will advise on appointments as the project develops".
Firms have until 31 October to express interest in the three schemes, with invitations to tender due to be sent out on 4 November.
Bidders for the two-stage process will first need to complete a pre-qualification questionnaire, before the four most suitable suppliers are invited to negotiate at the second stage.