Race for spots to start next month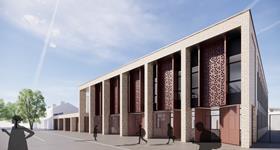 Contractors have been put on notice for a £1.4bn framework for projects in the West Midlands.
In a Prior Information Notice, Constructing West Midlands revealed its new four-year framework would be delivered in two lots.
Constructing West Midlands (CWM) is the delivery vehicle for building works for public sector organisations throughout the region.
Morgan Sindall was recently appointed to build Rockwood Academy in Birmingham under the framework.
The first lot will cover projects worth between £250,000 and £5m, while lot 2 will cover jobs worth more than £5m.
A contract notice for the framework, which replaces the organisation's current deal, is expected to be published on 7 October.
CWM plans to appoint four contractors to both lots with up to eight firms shortlisted for each package of work. Firms will only be able to secure a place on one lot.
The current version of the framework is made up of seven lots with lot 7 for jobs worth £500,000 or more. Firms currently on this lot include Wilmott Dixon, a Morgan Sindall joint venture and Balfour Beatty.