Chief executive of industry body says firms "recognise current business model not sustainable"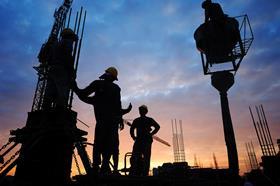 The chief executive of the body representing large main contractors and specialists has said the industry's biggest companies are ready to change their practices on payment.
Speaking in advance of the launch of Build UK on 1 September, chief executive Suzannah Nichol said the members of the new body, which include many of the UK's biggest contractors, "recognise the current business model is not sustainable".
Build UK has been formed from a merger of the National Specialist Contractors Council (NSCC), which Nichol previously ran, and the UK Contractors Group (UKCG), which represented 27 of the UK's largest firms. Prior to her new role, Nichol had spent much of her time at the NSCC campaigning for main contractors to improve payment practices, and she has previously confirmed that it will be a priority topic for the newly combined organisation.
Nichol said: "Now the industry is in a relative boom time, we need to make sure we grow sustainably, so that we ensure that next time there is a recession we're better placed in terms of payment and skills, so there isn't just slash and burn behaviour.
"It's not a good cycle and people are saying to me 'I'm ready to have this conversation'. People at the top are saying 'I don't want to see this again'."
Nichol has convened a working group on the issue, which she said would look at how to ensure all parts of the industry could benefit from positive cash flow. "We want to look at how to make a business culture that works for everybody."
Nichol also confirmed that the merged organisation would take part in the construction industry Strategic Forum, which is supposed to represent the whole of the industry, and which is also due to unveil a revamp in September. Prior to the merger, the UKCG had stopped taking part in the Strategic Forum, choosing instead to work with the CBI's Construction Council.
Nichol said: "As soon as individual parts of the industry go off and do their own thing, then the industry as a whole loses weight and respect. The Strategic Forum is not the holy grail but it does bring together clients, contractors, suppliers and consultants, and construction needs to be a team playing together."
Build UK's action plan will focus initially on the image of construction, the skills the industry needs, effective pre-qualification, health and safety performance and fair payment practices.
The new union brings together 27 of the industry's main contractors as well as 40 trade associations representing 11,500 specialist contractors to provide a "single voice" for the construction supply chain.
Overseeing Build UK's strategy will be a board with equal representation from main and specialist contractors.
Build UK's board includes joint chairmen James Wates of Wates Group and Kevin Louch of Stanford ACIFC. They are joined on the first board by Paul Abson of Bouygues UK, Mark Castle from Mace, Skanska's Greg Craig, Matt Nicholson from Lakesmere, Julie White of D-Drill - DSA and the Electrical Contractors' Association's Steve Bratt.