Discussions over several contracts follow rise in price of the Somerset nuclear power plant from £10bn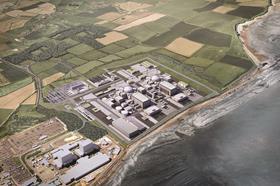 A number of multimillion-pound contracts on the £18bn Hinkley Point C nuclear power plant are being renegotiated, Building understands.
EDF said last week it will make a final investment decision on the power plant in Somerset "within weeks", after it secured £6bn of investment from China General Nuclear Corporation (CGN). The French energy giant also announced it had agreed final terms on five major contracts with suppliers.
However, sources have told Building that while a final investment decision is now expected to be "a formality", several major contracts agreed over the last three years are currently being renegotiated due to cost inflation. These contract values include those where final terms have been agreed, sources said.
One source told Building: "There's a lot of to-ing and fro-ing with contracts at the moment. Discussions are happening all the time.
"Also, a lot of contracts were originally negotiated during the recession. Now firms are finding that they don't necessarily need the work."
The news comes after a Kier and Bam joint venture announced last week it had signed a new contract for the enabling works worth £203m, more than double the widely reported figure of £100m when the contractors were selected in 2012.
Last week EDF agreed final terms with a Bouygues TP/Laing O'Rourke JV for main civil works; Bam Nuttall/Kier JV for earthworks; Areva NP for services for the nuclear steam supply system, instrumentation and control; Alstom France for turbines; and Alstom UK for services during operations.
One of the largest contracts to date is the main civils works contract - awarded to the Bouygues TP and Laing O'Rourke joint venture in 2013 with a value at the time of £2bn.
A raft of further firms including Balfour Beatty, NG Bailey, Jacobs, Gleeds, Faithful + Gould, Turner & Townsend and Mace are also lined up for work, after they were named as preferred bidders for £1.3bn of construction contracts in July, provisional on EDF fully committing to the scheme.
When asked about contract renegotiation, Laing O'Rourke declined to comment when contacted by Building. EDF referred Building to its announcement last week, and Bouygues TP was contacted for comment.
EDF's announcement on Hinkley, confirmed in a press conference held by prime minister David Cameron and Chinese president Xi Jinping, will see the state-owned French firm's share in Hinkley Point C stand at 66.5%, while CGN's will be 33.5%.
EDF says it intends to bring other investors into the scheme "in due course" without taking its initial stake below 50%.
EDF and CGN have also agreed heads of terms on a wider UK partnership for the joint development of new nuclear power stations at Sizewell in Suffolk and Bradwell in Essex. Terms will be in final form before the final investment decision for Hinkley Point C.