CIOB survey finds that more than one in three construction professionals have been offered a bribe or incentive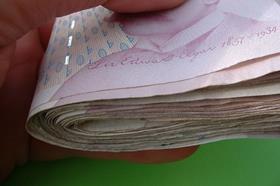 More than one in three construction professionals have been offered a bribe or incentive, according to a new survey by the Chartered Institute of Building (CIOB).
The survey, of 700 construction professionals, aimed to determine whether corruption is perceived to be a problem within the UK construction industry, as well as what practices are deemed to be corrupt and which parts of the construction process may be susceptible to corruption.
It found that, despite legislation like the Bribery Act, almost 50% of respondents believed corruption was still commonplace in the construction industry and that more than one in three respondents (35%) said they had been offered a bribe or incentive on at least one occasion
The survey also found that over a third (38%) of respondents had come across cartel activity in the UK construction industry on at least one occasion and of those 29% had witnessed it over the last 12 months.
Michael Brown, CIOB deputy chief executive, said little progress had been made since the CIOB undertook a similar survey into corruption in 2006.
He said: "What we have found is that cultural practices and the consequences of the recession have placed a greater strain on companies to sometimes engage in adverse practices as a survival mechanism."
The survey also revealed that nearly half of respondents were unaware if their firm had a whistleblowing policy, despite 45% describing themselves as senior management or director level, and only 7% said that they had used it with varying degrees of success.
More than half of respondents did not know the annual cost of corruption to their business, while nearly 10% indicated annual losses totalling £1m or more as a result of fraud and corruption.
The CIOB said measures aimed at tackling corruption, such as the Bribery Act, appear to have had a limited effect, with no prosecutions against businesses taking place.
"If the UK is going to live up to its rhetoric of being tough on corruption, both the government and industry must do more to show proof of progress" said Brown.
Graham Hand, coordinator of the UK anti-corruption forum, said "This valuable report shows that despite the introduction of a tough new Bribery Act in 2010, corruption is still common in the construction business in this country. That is unacceptable."
"The law enforcement agencies need to work with the professional and business organisations to educate companies about their responsibilities, and they must act against companies that break the law."