Project originally had £60m price tag
The cost of the aquatic centre Wates will build for the Birmingham Commonwealth Games has risen from £60m to £73m – an increase of more than 20%.
Sandwell council said the cost had increased because of groundworks and site dewatering along with higher than expected steel costs.
It said other parts of the job were higher than estimated at the design stage.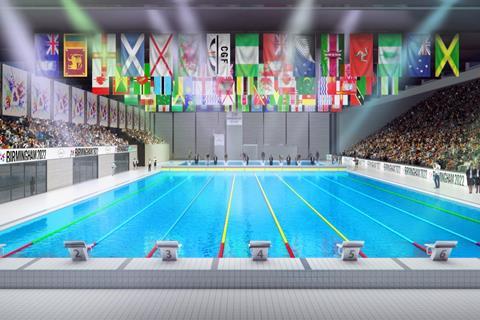 But the council said it was comfortable with the hike because of the risk it was transferring to Wates.
The council said: "Given the nature of the fixed price contract, the maturity of the design, and the transference of potential cost fluctuation risk to Wates, the proposed contingency allowances are sufficient for the delivery of the scheme."
Wates is set to sign the final contract on 26 November and start the main package of works early next year.
Council documents also revealed authority was putting in £27m to the job, while a further £38m is coming directly from the Commonwealth Games budget.
And the remainder is coming from a mix of sources including Sport England and Wolverhampton university.
According to the terms of its contract, the firm is required to create 22 apprenticeships, pay 100% of its tier 2 suppliers "fairly" and use 75% local labour.