Price tag has risen £250m in last year alone
The cost to finish Astra Zeneca's new HQ building in Cambridge, which is being managed by Mace, has tripled to £1bn, according to the pharma giant's latest annual report.
The Cambridge Biomedical Campus (CBC) had an initial price tag of £330m when it was announced in 2013, with costs rising by £250m in the past year alone.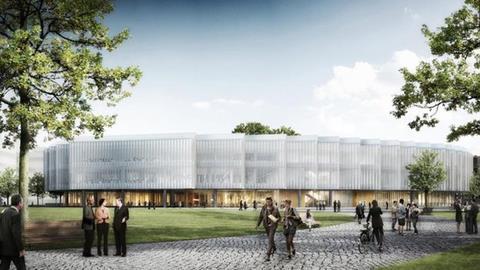 Skanska, who was appointed on a construction management (CM) contract in 2013, was replaced by Mace 18 months ago.
In its 2019 annual report Astra Zeneca admitted costs had now risen to £1bn.
Building understands the increase has partially been caused by changes to the building's remit, including the type of tech and research methods planned for the centre.
In its report Astra Zeneca blamed "the complexity of the build, construction cost inflation, including the impact of a weakening pound sterling, and increased investment in new technologies and equipment" for the budget blowout.
Mace took over the CM role for the research and development centre's fit-out phase in August 2018 - the same year the scheme was originally due to be finished.
In that year, costs had already increased to £500m, with an Astra Zeneca spokesperson blaming various design problems as well damp issues in the donut-shaped building's basement.
In its 2018 annual report, Astra Zeneca admitted cost projection had risen to £750m, adding that Mace as the newly appointed construction manager was in the process of "reviewing cost estimates".
More than 2,000 staff will work in the CBC, designed by Herzog & de Meuron, once complete, which is now expected to be at the end of 2021.