Galliford Try has been appointed as the permanent contractor on the Lincoln scheme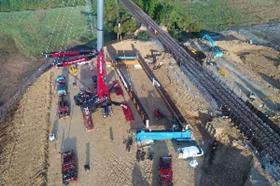 Galliford Try has been appointed to permanently take on the construction of the Lincoln Eastern Bypass as costs spiral on the job that was previously held by Carillion.
Lincolnshire County council chose the contractor to temporarily manage the job a week after Carillion went bust in mid-January, with the appointment now made permanent.
But the council has revealed Carillion's liquidation had been costly, with the price of the job expected to increase by 25%.
Cllr Richard Davies, executive member for highways, said: "At this stage, the total cost of the project is now expected to be £120m, with about half the new costs coming as a result of changing contractor and the remainder from additional archaeological spend, additional land acquisition costs and inflation."
The project was originally expected to cost £96m.
Davies said Carillion's failure had also caused the completion date to be pushed back by at least six months.
"Another outcome of Carillion's collapse is that the scheme's new expected completion date is May 2020," he said. "We know this isn't ideal, as were hoping for the bypass to be open in December 2019, but we have done all we can to keep the project moving in the right direction. By exploring all options and focusing our efforts on getting the best value for money, we've been able to keep the time delay to a minimum, despite the situation we were cast into."
In addition to applying for additional funding from the Department for Transport and Historic England, the county council will be funding the extra scheme costs.
The 7.5km project is part-funded by a £50m government capital grant.
Meanwhile, Balfour Beatty has replaced Carillion, which had been the original preferred supplier, on the first two phases of the East Leeds Orbital Road (ELOR) contract.
The first two phases include improvements to a number of existing Outer Ring Road junctions, as well as developing the design for the main ELOR.
Work on these two phases is set to start this summer and last for around 15 months. The main ELOR construction will begin in late 2019.
Both Galliford Try and Balfour Beatty have taken heavy financial hits following Carilion's collapse as the three companies had been joint venture partners on the troubled Aberdeen bypass scheme.
Last month, Galliford Try revealed it was set to take a further financial hit on the job. It said the amount would depend upon progress made during the summer but it expected it to be lower than the £25m taken in the first half.
In its 2017 results Balfour Beatty confirmed that Carillion's implosion in January had cost it £44m on the job which is now scheduled to finish this summer and open this autumn, a year later than planned.