Figure to pay for work to finish Midland Met and cover current hospital's running expenses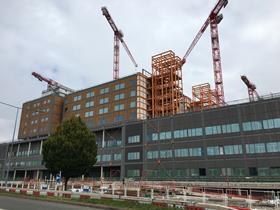 The boss of the NHS trust responsible for completing the Birmingham hospital left in limbo after Carillion's collapse has revealed the delays caused by the contractor's failure are set to cost £400m.
In papers published ahead of a board meeting this week of the Sandwell and West Birmingham Hospitals NHS trust, its chief executive Toby Lewis revealed the bill to complete both the Midland Met and keep City Hospital, the facility the new hospital is meant to replace, operational until 2022.
In his chief executive's report Lewis said: "More than £400m will be spent on completion and enabling works to keep City working until 2022.
"Our relative financial stability in the last five years is helping funders to invest with us with confidence."
The government agreed to fund the Midland Met scheme in August, following a decision by its financial backers earlier in the month to pull the pin on the PFI agreement.
Lewis said he would update the board on the plan for appointing a new main contractor role to finish the scheme when they meet on Thursday (6 December).
He said: "I will update the board when we meet on the issuing of the final procurement notice for the completion work on Midland Met, to finish the new build ready for opening by 2022.
"The approval of the scheme is a statement of confidence in the local system. The final contractor will be selected by open competition."
He also said Balfour Beatty, which is currently on site carrying out an interim works package, is "making good progress".
Meanwhile, the trust said it was having to reopen wards at the current hospital earmarked for new homes under a deal it struck with Homes England.
The government agency, which now owns the site, wants to build 750 homes at the hospital in Winson Green but the trust said delays with the Midland Met had meant it was having to fork out for IT infrastructure costs and other works associated with bringing the wards back into use.