Contractors announce plans to form £1.6bn-turnover contractor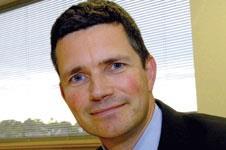 Costain and May Gurney have announced plans to merge to form a £1.6bn-turnover contractor.
The new company will be named Costain May Gurney and will continue to be traded on the stock exchange.
The deal will see Costain buying all of the issued shares in May Gurney, with each May Gurney shareholder receiving 252p per share, valuing the takeover at £178m.
The combined company will be 53% owned by former Costain shareholders with former May Gurney shareholders having a 47% holding.
It will be led by current Costain chief executive Andrew Wyllie (pictured) as the combined group chief executive, while current Costain finance director becomes combined group finance director. The merged company will be headquartered at Costain's head office in Maidenhead.
Costain's David Allvey will be chairman of the combined group with May Gurney's Baroness Maragret Ford as deputy chairman.
According to a statement by Costain, the merger will provide "double digit" earnings growth for Costain in the current financial year and will have an order book of £3.9bn.