Costain's boss defends the firm's failed bid for services provider May Gurney, after being trumped by Kier's takeover deal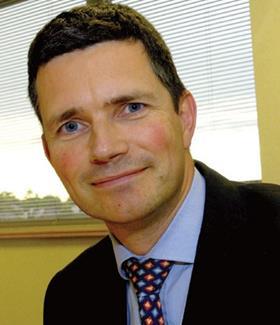 Costain's boss and chairman have defended the firm's failed bid for services provider May Gurney, after being trumped by Kier's proposed takeover deal.
In a video interview published on the firm's website (watch below), Costain non-executive chairman David Allvey said he believed Costain's £178m merger deal, agreed with the May Gurney board last month, "reflected the value of the business following several months of due diligence".
Yesterday Costain said it would not be submitting a revised bid for May Gurney, after Kier announced on Wednesday that it had agreed a £221m takeover deal with the May Gurney board with a 315p offer that outbid Costain by 35%.
"We believe the offer we made fully reflected the value of the business and we have concluded that we will not increase that offer," Allvey said.
Costain's withdrawal will come as a blow for the firm's chief executive Andrew Wyllie (pictured), after the firm also failed in a bid for Mouchel in 2011. Then Costain tabled four bids of increasing value after repeated knock-backs, only to see its prospective partner solicit a deal with rival Interserve.
In the interview, Wyllie said the acquisition of May Gurney could have been an important step in Costain's strategy, but "not at any cost". "We're very mindful of value and will not do a deal for the sake of it. Any deal we do has to be right for the business and right for out stakeholders," he said.
But he did not rule out future acquisitions, saying Costain would "continue to develop the business both organically and by acquisitions".
Asked if they were disappointed by the failed bid, Allvey said: "No, let's be clear, we have strict disciplines at Costain and that gives us our success.
"We had a plan and we had a price for May Gurney and there was no way we were prepared to compromise on that approach - indeed, if we were to alter that approach I'm pretty sure our shareholders would be the ones to be disappointed."
Wyllie said the firm had "taken a great deal of the last few months". "Five years ago Costain wouldn't have been in a position to make such a move and during the process we've heard time and time again how well Costain is regarded and is a leading player in our industry," he said.