But directors say £178m deal is designed to drive growth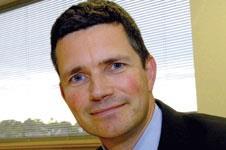 Up to 150 jobs will go as Costain and May Gurney look to make operational efficiencies if their proposed £178m merger is given the go-ahead.
In documents filed with the Stock Exchange Costain said it anticipated that the merger "will result in a net reduction in the number of Combined Group full-time equivalent employee roles of fewer than 150." It said these reductions would be primarily from overhead roles, and in total the merger would deliver cost-savings of £10m per year by 2015.
However, Costain chair David Allvey said the merger was about positioning the combined company for growth, rather than about looking for "every opportunity to save costs."
Costain has already said it will retain May Gurney's head office as a shared service centre, but Allvey and Costain chief executive Andrew Wyllie (pictured) declined to give any assurances regarding retaining other specific offices.
Allvey said: "Driving our thought processes is an opportunity for growth, that we see with the way our customers are chaning their requirements. That's why with this merger we've decided to ring-fence our business development spend, which is particularly vital given that procurmen is becoming more complex and the costs of bidding are going up."
The proposed merger, if approved, will create a £1.6bn turnover contractor and support services firm specialising in the public and regulated sectors, employing 11,000 staff. It will be known as Costain May Gurney, and although the merger will take place by a buy-out of May Gurney shareholders and leave Wyllie in charge of the combined business, both firms stressed they viewed the deal as a merger rather than a take-over.
Wyllie said the merger was taking place in order to respond to the need by customers such as utilities to procure larger more complex deals from their suppliers. He said: "This is the result of the rapidly changing nature of our customers needs. We're need to position ourselves as in the premier league of tier one suppliers to our customers, and to do that we have to have scale, financial strength and diversity of service offering."
The merger follows a profit warning by May Gurney in September which saw the departure of then chief executive Philip Fellowes-Prynne to be replaced by Willie MacDiarmid. Both Costain and May Gurney denied the deal, which has seen shares in May Gurney spike 22% in early trading, should be viewed as a rescue deal for the firm.
May Gurney chair Margaret Ford said: "The board has not looked at this as a short term deal in any way. We've got a three year and a ten-year horizon on this deal and the fact that May Gurney has had well-publicised operational difficulties that we have address and continue to address is neither here nor there."
Shares in Costain have fallen more than 5% on the announcement.