Contractor's stock continues to fall after yesterday's losses and rights issue announcements
Shares in Costain fell below £1 today, a record low for the contractor, after its stock plummeted 34% yesterday in the wake of news that it went into the red last year.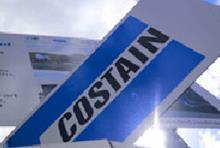 The latest share dive, down 17% to 88p at 2pm today, values the loss-making firm at just £96m.
Five years ago Costain's shares were nearly £5 a share and even as recently as last summer were worth more than £3.
Yesterday Costain announced a £100m rights issue "in the coming weeks" to bolster its balance sheet and reported a near-£7m pre-tax loss for 2019, on £1.2bn of turnover, versus a profit of £40m in 2018.
The group blamed the downturn on delays to the start of jobs and a contract cancellation, believed to be the M4 widening scheme which was pulled by the Welsh government in May last year and which cost the firm £500m-worth of work.
The £100m rights issue was prompted in part by the fall-out from the introduction of the prompt payment code, which led to higher working capital requirements, and the increased the use of joint operation structures and project bank accounts which tied up more of the firm's resources.
The firm had £64.9m in the bank at the year-end and average month-end net cash of £41.2m in 2019, down from £77.1m a year earlier.