Procurement is already three months behind schedule
The council responsible for developing the main stadium for the 2022 Birmingham Commonwealth Games has said it will begin the search for a contractor by the end of this month – three months later than it first hoped.
The city council originally said it wanted to publish a contract notice for the £70m deal at the end of January with a shortlist of six firms drawn up by the end of last month.
But the procurement process is yet to get underway with the council now saying it will start by the end of the month.
A council spokesperson said it didn't expect the delay to hold up construction work getting underway early next year.
He said: "Tender documents are targeted to be issued out at the end of April. Construction work is due to begin in early 2020 as previously stated."
The council did not say what was behind the delay.
Firms likely to throw their hats into the ring include Buckingham, the contractor behind the new stand development at Fulham's Craven Cottage ground, Bam, which has worked on the Lord's redevelopment, and Sir Robert McAlpine which built the 2012 Olympic Games stadium.
Mace is acting as the project manager on the scheme while Arup was appointed to draw up the designs for the new main stand in October last year.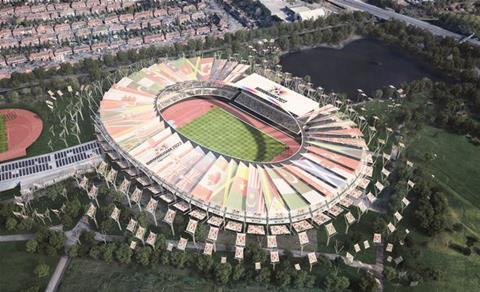 The revamp of the stadium, which is already home to governing body UK Athletics, will increase capacity from 12,700 to 40,000 for the duration of the Games.
The back-straight stand, which was built in 2012 with a capacity of 5,000, will remain but the other three stands will be demolished and replaced by the new main stand.
According to the original plan, contracts for both the demolition and the deal to build a 400m outdoor warm-up track are also due to be awarded this month. Both contracts are worth less than £4.5m so will not be procured through the Official Journal, the council said.
Alexander Stadium will host both the opening and closing ceremonies as well as the athletics events. The games are due to run between 27 July and 7 August 2022. The redevelopment will increase the permanent capacity of the venue after the games to 20,000.