MPs told local authorities began to line up replacements following firm's £845m writedown last July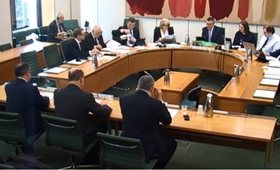 Local authorities were advised to start preparing for Carillion's collapse ever since it issued its first profit warning last July, a parliamentary inquiry has heard.
Bigwigs from local authority groups fronted MPs from the public administration and constitutional affairs committee to answer questions regarding contracts with the failed contractor.
The inquiry is looking into lessons to be learned from the collapse of Carillion in regards to sourcing public services.
David Simmons, Conservative leader at the Local Government Association, told the inquiry there were 350 contracts held between either local authority or NHS partnerships and Carillion.
He said: "There were 30 councils across the country who were directly affected by the collapse and in addition to that there are 220 schools in total, of which 150 were local authority maintained and the remaining 70 were special schools or academies.
"In all cases, essentially what has happened is the local authority has stepped in either to resolve the issue directly or engage with the contractor about what will happen to that contract because another part of a consortium is due to pick it up."
Asked about what contingency planning had been in place for the failure of the firm, Simmons said the LGA had been in touch with government since Carillion announced a £845m writedown on 10 July last year.
He added: "Obviously there have been a number of things that have been going on relating to the share price performance and just general gossip in the market about what was happening in the business.
"Through that process there has been sharing of what local knowledge is coming up through the LGA and also what government was aware of, in order to manage the situation."
The news contrasts sharply with a supplier briefing update Carillion sent out on 21 July last year to convince thousands of suppliers to stick with it.
In its letter, the firm said government awards, which included two jobs on the HS2 railway, were "a sign of the confidence that our key customers have in our ability to meet their requirements"
But Nigel Kletz, director of commissioning and procurement for Birmingham city council and the chair of the National Advisory Group for Local Government Procurement, told MPs at yesterday's hearing that his authority had been lining up replacements since autumn.
He said: "We got good intelligence from the cabinet office, crown commercial services and through the LGA of the profit warnings and risks to this.
"We were in dialogue with directors of Carillion directly about that and we put contingency actions in place.
"Luckily we were able to ready the alternative suppliers to take [contracts] on board and we did that in the autumn through the advice and advance warning we had.
"So come the day we were able to transfer staff, we were able to transfer work quite easily with minimum disruption and with minimum loss of jobs for the people concerned."
In January, parliamentary under secretary for housing, communities and local government Jake Berry told MPs that his department had been working with the LGA in the weeks leading up to Carillion going bust. He said: "This was to ensure they had appropriate contingency plans in place."