Housebuilder praises government announcement of £140m to revamp failing estates as it prepares for IPO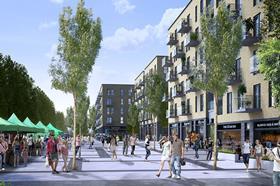 Housebuilder Countryside is to point to a "surge in opportunities" in estate regeneration following a government drive to redevelop failing housing estates as a key reason for investors to back the firm at its forthcoming IPO.
Countryside chief executive Ian Sutcliffe said the majority of the firm's long-term growth prospects now came from its estate regeneration work, which already makes up 46% of the housebuilder's revenues.
Sutcliffe made the comments after the firm announced its intention to raise £114m through an initial public offering (IPO) on the London Stock Exchange.
"The thing that really marks Countryside out is the partnerships business. We've got a fantastic pipeline of work and the rate of opportunity is growing enormously," he said.
Sutcliffe pointed out that prime minister David Cameron's announcement last week of £140m to pump prime redevelopment of the UK's 100 most challenging housing estates, which was sharply criticised for being too little funding to affect scheme viability, followed on from the announcement in November by George Osborne that the government had made a much larger sum of £2.3bn in loans available for estateregeneration projects.
Sutcliffe said: "The timing of David Cameron's announcement couldn't have been better, as this is something we've been advocating for a number of years. In time this will become the dominant part of our business, which is great because it's the part which fares best when the market turns down."
This week Countryside said it had agreed the latest of these deals, a partnership with Three Rivers council to redevelop the South Oxhey estate into a 500-home scheme (pictured).
Countryside is currently 85% owned by US private equity firm Oaktree, which will have to sell at least 25% of its holding in the proposed February flotation.
Countryside Properties intends to use £64m of the money raised by the IPO to reduce its debts in order to give the group a stronger balance sheet to support and pursue its growth strategy.
The other £50m raised will be used to accelerate growth in the development of the Group's sites at Acton, Beaulieu, Hazel End and Rayleigh, through investment in additional phases over an approximate two-year period.
The group's directors believe it can grow output by more than 50% from the 2,364 units built this year, to over 3,600 units per year. It is targeting operating margins of over 17% and return on capital employed of over 28%.
Countryside Properties added that it intends to pay out 30% of its earnings in dividends, underpinned by the strong cashflow generated by its Partnerships division.
Countryside Properties group chief executive Ian Sutcliffe said: "Over the last two years our focus has been on strengthening the group's core businesses of housebuilding and partnerships and enhancing volumes
and returns.
"Today we are delivering significant growth in the sector, have a truly differentiated business model and are providing strong returns."
David Howell, chairman, said: "Under Ian and the team's stewardship we have been executing a clear strategy with operational discipline, to deliver sustainable profitable growth."