Gardner Stewart-designed job will feature specialised accommodation and luxury housing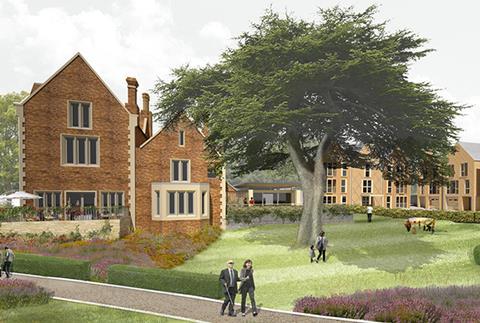 Countryside has kicked off construction of a new £30m residential development for the Royal National Institute of Blind People in Redhill, Surrey.
The joint venture with between the housebuilder and the RNIB will result in specialised accommodation for up 50 residents and 77 new luxury homes on the site, which will be sold on the open market.
Designed by Gardner Stewart Architects the scheme will feature a sensory trail which will utilise sounds, smells and textures on a "Learning Landscape" to aid blind people navigate the 6ha site.
The first specialised accommodation is expected to be completed by spring next year, when the first open market homes will also be ready.
The scheme will also feature a fully restored and converted Grade II-listed Tudor period house as a community hub (pictured) comprising offices, training, café and multi-purpose facilities.