Parent company Oaktree buys Millgate Developments as part of expansion drive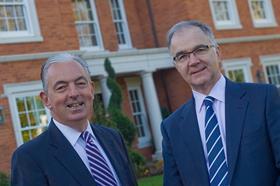 Housebuilder Countryside is to merge with luxury home developer Millgate, Building can reveal.
Brentwood-based Countryside revealed today that its owner Oaktree Capital Management has acquired Millgate, although it declined to put a value on the deal.
Millgate, which is focused on the luxury home market in the home counties and the South-east of England, turned over £51.3m in the year to June 2013, and sold an average of just 40 properties per annum over the last three years, compared to a high of 120 before the credit crunch.
However, its average sale price was £1.2m, helping to make a pre-tax profit of £8m in 2013.
A spokesperson for Countryside said the Millgate brand would be retained for sales purposes, but the firms would be merged, making it essentially a division of the larger housebuilder.
David Simpson, managing director of Millgate, will join the Countryside board.
Countryside, which turned over £295m in the year to September 2012, has been on an expansion drive since its acquisition by US venture capital firm Oaktree in February last year.
In September last year it appointed former Taylor Wimpey managing director Ian Sutcliffe as executive chair. Sutcliffe joined Countryside after masterminding the merger of housing contractors Keepmoat and Apollo in 2012.
Countryside said the merger would see Millgate's product range offered in new and existing Countryside sites under the Millgate brand.
It said it would expand the geographic reach and product offering of both groups increasing the overall value of the combined entity while achieving important synergies.
David Simpson said: "The board and staff at Millgate are very excited about the outstanding strategic fit of the businesses. We have found an excellent partner and look forward to working with the Countryside team to expand the Millgate brand into new areas."
Countryside's Ian Sutcliffe, said there was compatibility of product, geography and culture between the two companies which made it "an outstanding strategic fit" and a "great opportunity to broaden our offering."