HTC crane drivers agree three days of strike action that will disrupt major sites including Network Rail's London bridge redevelopment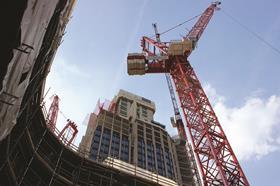 Major construction sites, including Network Rail's London Bridge development and Land Securities massive scheme in Victoria are set to face disruption after crane drivers agreed three days of strike action.
Ucatt, the construction union, said today that following the overwhelming vote in favour of strike action last week by crane operators at HTC Plant, three 24 hour stoppages had now been agreed for successive Fridays.
The union said the strikes would take place on 7,14 and 21 November.
"Due to how construction sites operate this is set to cause a huge amount of disruption," Ucatt said.
It is understood that all sites where there are HTC Ucatt members employed could be affected by the action, with the union saying these include Land Securities' Nova Victoria scheme, where Mace is the main contractor; Mace's South Bank Tower project (pictured); Network Rail's London Bridge station redevelopment; Lend Lease's Elephant & Castle scheme; as well as the Atomic Weapons Establishment at Aldermaston.
The union said the action could affect a number of other major contractors including Kier, Bam, Costain, and Vinci.
Ucatt also said some Crossrail sites could be affected, although Crossrail said HTC had a "very limited" presence on the £15bn London rail project, with HTC only working on "one or two sites".
A Crossrail spokesperson said: "Proposed strike action by crane drivers employed by HTC Plant is not expected to have any impact on Crossrail's construction as HTC's presence on the Crossrail project is currently limited."
Steve Murphy, General Secretary of construction union UCATT, said: "Construction sites are facing massive disruption because HTC have failed to make a realistic pay offer to our members."
Last week Ucatt said more than 180 HTC crane drivers voted 94% in favour of strike action and 94.6% in favour of industrial action short of strike action.
The crane operators want HTC to restore pay in real terms to pre-recession levels, but to date HTC has not made a pay offer that meets Ucatt members' expectations.