North West Bicester scheme will deliver 232 homes, 30% affordable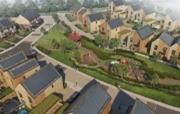 Crest Nicholson and A2 Dominion have announced an £80m joint venture to build 232 homes at the Elmsbrook eco-town development in North West Bicester, Oxfordshire.
The development will comprise two, three, four and five bedroom eco-homes on a 10 ha site, with 30% reserved for affordable housing.
All homes will include rain water harvesting systems, electric car charging points, 'in home' digital information systems and solar panels, and will be heated by a district heating plant.
The four-year construction programme will get underway in spring next year, with the first homes to be completed by summer 2019 and a final completion date of mid 2022.
Nick Hutchings, commercial executive director at A2Dominion, said: "With more and more demands on environmental issues, our collaborative and forward-thinking approach will be key to offering sustainable living and greener futures."
Chris Tinker, main board director at Crest Nicholson, said: "The creation of eco-friendly, energy efficient housing is a key pillar of our commitment to sustainability and the Elmsbrook site has been carefully planned to offer all the benefits of contemporary sustainable living.
"We look forward to working closely with the A2 Dominion, Cherwell District Council and key local stakeholders to ensure a smooth delivery on site."