Developer and investor agree deal to fund construction of Bath scheme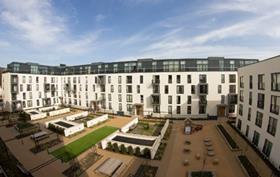 Developer Crest Nicholson and investor M&G Real Estate have agreed a deal to buy a 97-home private rented sector (PRS) development in Bath.
The PRS scheme is part of Crest Nicholson's wider Bath Riverside development (pictured). The two organisations said the transaction would lead to "a longer term relationship" between the two.
Under the terms of the Bath deal, M&G Real Estate will provide £25.2m to fund the development of 97 apartments and supporting community space. Crest Nicholson is both developer and contractor of the scheme, of which the private rented sector (PRS) element will provide a mix of one and two bedroom apartments. The units will be ready for tenancy between February and October 2016.
Chris Tinker, executive board member for Crest Nicholson, said: "This is an exciting development in Crest Nicholson's drive to explore new models of housing delivery across the Southern half of the UK. With housing at the forefront of the political agenda, an institutionally funded private rented model has the potential to underpin a meaningful increase in housing output at a time when the need to sustain growth and meet housing need is at an all-time high.

"This type of partnership agreement could mark a step change and acceleration in the PRS model which will ultimately help unlock land, create jobs and bring wider economic benefit as well as bringing forwards the delivery of much needed new homes and mixed tenure communities."
Alex Greaves, head of residential investment at M&G Real Estate, said: "We believe this to be the first transaction of its kind between an institutional investor and a listed house builder, marking a major opportunity for institutional investors seeking access to the UK residential sector."