Firm's boss to become chairman as it reports uplift in revenue and profit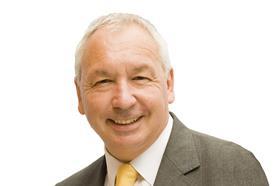 Crest Nicholson's chief executive Stephen Stone will move to a new role as chairman at the housebuilder from 22 March as part of a management reshuffle.
He will be replaced by the firm's chief operating officer Patrick Bergin as its chief executive. Bergin was appointed to his current role last January.
Stone (pictured) joined Crest Nicholson in 1995 and was appointed to its board in 1999. He then served as the firm's chief operating officer from 2002 before becoming its chief executive since 2005, overseeing its London Stock Exchange re-listing in February 2013.
Stone will act as chairman in an executive capacity for the first year then will become non-executive from 1 April 2019.
William Rucker, who has been the firm's chairman since September 2011, will not be seeking re-election at the upcoming AGM.
Octavia Morley, interim chair of the nomination committee at Crest Nicholson, said: "Under the leadership of Stephen and Patrick, Crest Nicholson has been a very strong performer since its initial public offering in February 2013, achieving significant increases in total shareholder return, profitability and number of homes built.
"The board believes their combined leadership as CEO and chairman will continue to be a winning formula for shareholders in the future."
The news comes as Crest Nicholson reported its latest financial results for the year ended in October.
Pre-tax profit was up 6% year-on-year from £195m to £207m, while revenue rose 5% from £997m to just over £1bn.
Sales, including those from joint ventures, increased 7% to £1.1bn from £1bn a year earlier, with the firm looking to up this figure to £1.4bn by 2019.
But it completed just 65 new homes in the period compared to a year earlier, at 2,935 homes versus 2,870.
It said it was concerned about the effects of the decision to leave the EU in June 2016 and consequently made some strategic decisions that pushed back some land purchases last year.
Last year, it acquired land for space to build around 3,000 units, including new sites near Colchester and Winchester, adding it now has the long and cost-effective land pipeline it needs, with further land available through partnerships.
Stone said: "We have had another year of growth, with increases in sales and the number of new homes built.
"The new build housing market continues to be robust, sustained by strong demand for new homes, a benign land market and government policies to improve access to housing."