The housebuilder reporting half year results said labour and planning continued to drag on the volume of new homes it could deliver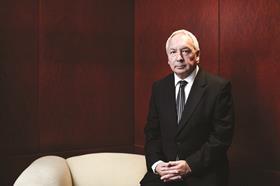 Crest Nicholson is on track to hit its £1bn revenue target for the year despite the potential disruption of a leave vote from the EU Referendum.
Chief executive Stephen Stone (pictured) said: "Whilst the debate about the forthcoming referendum on UK membership of the European Union continues to dominate the headlines and the Board notes the risk of business disruption in the event of a vote to leave, purchaser demand for new homes remains strong."
The housebuilder reporting its half year results posted a 23% rise in revenue to £408.1m, up from £333.2m for the previous year.
Crest Nicholson also reported a 24% increase in its pretax profit to £72.6m for the six months ended 30 April 2016, up from £58.3m.
The southern-focused company said attractive housing conditions continued to underpin sales rates and revenue growth, adding that the government's Help to Buy initiative remained an "important incentive".
However, skilled labour and planning conditions remained a key constraints on the volume of delivery in the sector, the firm said, adding that the establishment of clear and workable principles to implement the provisions of the Housing and Planning Bill in respect of Starter Homes would be important to avoid undue delay in agreeing new planning consents and starting on site.
During the first half of the year Crest Nicholson said it had been granted planning for its first purpose-designed PRS scheme for M&G at Faygate near Gatwick Airport and had successfully defended a judicial review challenge to the planning consent on it development at Longcross near Virginia Water in Surrey, where it was now underway on the first residential phase.