Housebuilder adds 2,766 plots to pipeline and changes focus to larger strategic sites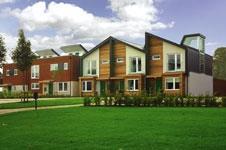 Listed housebuilder Crest Nicholson has added 2,766 plots to its development pipeline over the six months to April, according to its latest trading update issued today.
Crest said its land-buying focus was moving to larger, strategic sites. Over the period the firm added six sites comprising 2,575 plots to its strategic land pipeline, and four sites comprising 191 plots to its short term pipeline.
Crest said it had enjoyed "strong" trading in the six months to April, buoyed by revisions to stamp duty policy and increasingly competitive pricing in the mortgage market.
Forward sales were up to £336m across 1,786 units, up 29% and 25% respectively on the previous year.
Average open-market selling prices were up 20% to £322,000, which the company said reflected "an element of price inflation" but also the product and location mix evolving.
Crest sold 97 units at its Bath Riverside outlet to global real estate investment manager M&G Real Estate, which has bought the homes for private rental. The firm said the transaction was intended to "form part of a longer relationship between the parties".
Crest Nicholson chief executive Stephen Stone said demand from house buyers remained strong, and that conditions for the housebuilder to meet such demand are "very favourable".
He said: "The business is well positioned to continue to grow volumes and revenues in line with our previously stated targets and make its contribution to the delivery of the new homes that the country needs."