Adrian Dobson said severe punishments may be the only way to overhaul approach to compliance in construction industry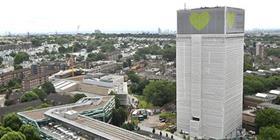 Criminal culpability for failure to adhere to building regulations may be the push industry needs for a culture shift, according to the Royal Institute of British Architects.
Speaking as part of the Housing, Communities and Local Government Committee's first follow-up session on Dame Judith Hackitt's Independent Review of Building Regulations earlier this week Adrian Dobson said industry needed a push in order to change its approach to complying with regulations.
Hackitt's report, which looked to move away from prescriptive regulations, suggested the onus should be put on industry to ensure compliance.
Dobson said: "I think we do need a prod. We are a very fragmented industry. We've got very low margins in many branches of the industry and quite a lot of risk pushed down the supply chain.
"I think a great thing in the Hackitt Report was to look at the CDM [design and management] regulations. There was a big shift in health and safety culture because very clear duties were put on everybody in the process: the client, the people who make the design decisions, the people who control the construction site.
"That particular model, which brings statutory duties and actually criminal liabilities, is the kind of prod that our industry really needs."
Senior vice-president at insulation manufacturer Rockwool Mirella Vitale agreed that industry needed a push. She said: "I don't think we can rely or even wait for the culture change to happen. We need that prod. That prod is regulation as a solid baseline and then regulation will drive cultural change.
"I don't think a self-regulated industry is the right approach to this issue."
Peter Caplehorn, chief executive and policy director at the Construction Products Association, said: "We have little respect for compliance. If you get something very serious very wrong there is very little comeback in the current regime. People have got to realise that they will be pulled up if they get things wrong and that there will be consequences of that."
Caplehorn, Dobson and Vitale said they all favoured a ban on the use of combustible cladding, despite the fact it was not recommended by Hackitt, with Vitale saying that it could be taken further.
She said a ban should be applied to not only residential towers, but hospitals, schools and care homes. She also recommend lowering the height limit to 12m for buildings where there was only one escape route and said any tower over 18m should be entirely clad in non-combustibles.
The panel's fourth member, Kingspan managing director of UK and Ireland Richard Burnley, said his firm felt the BS8414 was the best way to guarantee compliance rather than a ban. He said Kingspan had provided government with two examples of systems that would be classified as non-combustible failing BS8414 tests.
In a heated exchange, Labour MP Clive Betts asked Burnley whether the fact his firm was not in favour of an outright ban of combustible materials meant it was "prepared to put their profits before public safety".
Burnley responded: "Absolutely not … we sell products that range from non-combustible to combustible, and just to remove all doubt, with regards to this application and the products we sell into it, we are talking about significantly less than 1% of our turnover, so this is not about commercial benefit.
"We just have a very strong stance about what is compliant and we view it that this test is the method of giving people confidence."