Mayor of London will ask TfL to set up a body to deliver Crossrail 2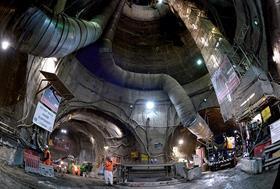 Mayor of London Boris Johnson has announced proposals to set up a company to develop and deliver Crossrail 2.
The new body, called Crossrail 2 Ltd, would be a wholly owned subsidiary of Transport for London (TfL) tasked with driving forward the development of the £27bn infrastructure project.
The comapny's board, comprising of a number of non-executive directors and senior TfL officers, qould be tasked with steering the project through the development phase to powers being granted to begin construction.
The proposal will be considered by the TfL board on 17 December. TfL has already submitted a comprehensive business case to government for Crossrail 2, and the project will now be considered by the National Infrastructure Commission, which will report back in next Spring.
Johnson said: "Crossrail 2 is a vital infrastructure project needed to give London and the South East the transport links, homes and jobs it needs as the population continues to grow rapidly.
"To continue to develop the project at pace and bring together stakeholders and other advocates, I am asking TfL to set up a company that will have the job of fulfilling the Chancellor's pledge last year that we must get Crossrail 2 off the page and into construction."
Speaking at Building Live last month, Crossrail 2's commercial director Simon Adams said the project is seeking the endorsement of the National Infrastructure Commission, which he considers crucial to its future.
Adams said: "In April next year we hope the commission will endorse our plans so we can start the development phase.
He added: "When we put our application to the Spending Review, there was no certainty it would be considered. But now we have the commission we know it will be considered [by them]."