Building Live: Head of commercial at Crossrail 2 says big contracts on £30bn scheme up for grabs within five years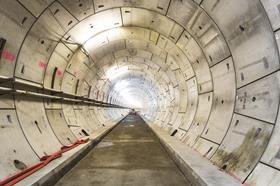 Crossrail 2 plans to let more than 200 contracts on the proposed £30bn rail project before main works start in the early 2020s.
Speaking in a panel discussion on delivering megaprojects at the Building Live conference, head of commercial at Crossrail 2, Simon Adams, said the scheme could see up to 60,000 jobs created during construction.
He added that Crossrail 2 could unlock land for 200,000 new homes, which it aims to "connect those [homes] to productive jobs".
Adams said the project could be built using a two-stage design and build process, with main works packages let around 2020.
He said TfL was focussed on proving the business case for Crossrail 2, which will be resubmitted to government in March.
Commenting on political support for the project, he added: "The Mayor [of London] is clearly a big supporter. The Chancellor hasn't been explicit in his support, but we were mentioned in the Autumn Statement [document] as a project the government would like to see move forward."
A hybrid bill for the project is expected to be submitted in 2019, which Adams said would allow TfL to acquire property and start construction in early 2020s.
He added that the scheme is expected to be complete in the early to mid-2030s.
Also speaking in the discussion was CH2M's EMEA nuclear managing director Jonathan Baker, who's firm has a programme management role on the £18bn Hinkley Point C nuclear power plant.
Baker said the "massive skills shortage" in the nuclear industry meant firms working on Hinkley would have "no choice but to use overseas labour".
He ruled out Chinese labour working on Hinkley – Chinese nuclear firm China General Nuclear is funding a third of the cost for the project – but said could "seek a central European first" to plug the skills gap.
Baker said the Hinkley project would need up 14,000 workers during peak construction.
In a separate panel debate on the Northern Powerhouse at Building Live, National Infrastructure Commission (NIC) member Sadie Morgan urged the government to kickstart the HS3 rail link from Manchester to Leeds.
Morgan, who is also chair of the HS2's design panel and won Building's personality of the year award for 2016, welcomed chancellor Philip Hammond's commitment to infrastructure spending in last week's Autumn Statement, but said there needs to be further "huge investment" to realise the government's Northern Powerhouse ambitions.
As well as pushing forward with HS3, Morgan also called for the M62 motorway to be upgraded.
Commenting on her NIC role, she said: "We will be there to make sure we hold government to account, ask questions and make sure this continues to be a focus [for government]."
Paul Beardmore, director of housing at Manchester city council, told delegates the authority was looking to work with "partners like the Homes and Communities Agency" to help it "ramp up" to deliver its target of building 11,500 homes a year across Greater Manchester.