Electrician Frank Morris returns to work after year-long dispute and campaign by Unite union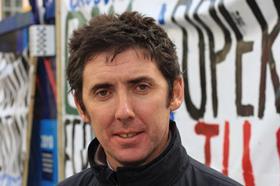 A year-long row over alleged blacklisting on the £15bn Crossrail project was brought to a conclusion this week with an agreement which will see the sacked worker at the centre of the dispute given his job back.
Following a high-profile lobbying campaign mounted by Britain's largest union Unite against Crossrail joint venture contractor Bam Ferrovial Kier (BFK), the two parties announced they had resolved the dispute, which arose after Frank Morris, an electrician, was dismissed from the his role on tunnelling work in Westbourne Park last September.
Both parties said they had agreed "there has been no contravention of the blacklisting regulations on the BFK Crossrail projects".
Morris' (pictured) dismissal sparked a major protest and an employment tribunal, amid allegations that he had been the victim of blacklisting after raising safety concerns on Europe's largest construction project - a claim strenuously denied by Crossrail and BFK.
Building understands that the deal struck between BFK and Unite will see Morris handed a new electrician's role on Crossrail's Liverpool Street station project.
In a joint statement, Unite and BFK said they had "successfully concluded matters" and would work closely together to provide "transparent working practices", including safeguarding the right of workers to join a trade union.
This comes less than two months after business secretary Vince Cable asked the information watchdog to investigate allegations about blacklisting by BFK on Crossrail, following what a House of Commons select committee called "clear proof" it was taking place. The Information Commissioner's
Office this week said it was continuing to investigate alleged blacklisting on Crossrail.
This week it also emerged that one of the key figures working for BFK who was linked with the blacklisting body The Consulting Association has left the project.
Building revealed in March that Pat Swift, formerly the human resources (HR) contact at Bam Nuttall for blacklist compiler Ian Kerr, was working as BFK's HR manager. Swift left BFK last week.
A spokesperson for Bam Nuttall said the timing of his departure was coincidental, adding: "He has retired - there's no ulterior motive."
Meanwhile the Scottish Affairs Select Committee resumed its investigation into the practice this week, hearing evidence from Peter Cheese, the chief executive the Chartered Institute of Personnel and Development (CIPD), the world's largest professional association for HR.
Cheese told the committee that the CIPD was investigating 19 members who work in HR positions in construction over their alleged involvement in blacklisting.