Average pay for senior staff at budget-busting scheme increased 15% in 2018
The amount spent on the salaries of the directors running the budget-busting Crossrail scheme grew in the past year, its latest accounts have revealed.
In its latest report for the year ending 31 March 2018, Crossrail Ltd said it had spent £1.83m on the pay packets of nine directors. It also handed out a further £56,500 under long term incentive schemes.
In its previous set of results, Crossrail paid £1.76m to 10 directors, meaning the average director salary grew by 15% or more than £27,000 in the 12 months to last March.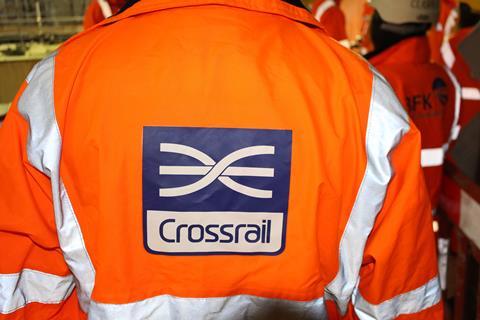 Last August Crossrail confirmed the line would not be ready to open in December. Three months later it announced it would cost up to another £2bn to complete.
And the figures show the average salary for staff at the business – excluding the wages of directors – went up 11% to almost £68,000 a year. The number of staff during the period fell from 596 to 499.
Among those to leave was former chief executive Andrew Wolstenholme who went at the end of March last year to take up a post at defence contractor BAE Systems.
Wolstenholme, who led the project for seven years, was handed a near £98,000 pay out for compensation for loss of office, the accounts said.
A Crossrail spokesperson told Building the payment was made because "his role [was] coming to an end" with Wolstenholme's successor, Simon Wright, combining the chief executive post with his then existing role of programme director.
Wolstenholme was the highest paid director over the period, earning £736,157, including the pay out.
Wright left the business last November and has been replaced by Mark Wild amid a wider rejig of the senior team, which saw chairman Sir Terry Morgan leave the same month. Wild has since brought in Peter Henderson to take on the programme director role.
A spokesperson for Crossrail said: "Any bonus payments made to the Crossrail Limited senior leadership team in previous financial years was because performance criteria and project milestones had been met and delivered in those years."
Crossrail employees with an annual base salary of more than £150,000 in 2017/18
| Name | Position held in 2017/18 TfL Annual Report | Salary (including fees and allowances) 2017/18 |
| --- | --- | --- |
| Andrew Wolstenholme | Former chief executive | £476,772 |
| Simon Wright | Programme director | £328,873 |
| Valerie Todd | Talent and resources director | £258,277 |
| Sir Terry Morgan7 | Chairman | £250,000 |
| Matthew Duncan | Finance director | £247,016 |
| Paul Grammer | Commercial director | £238,147 |
| Chris Sexton | Technical director | £230,707 |
| Ian Lindsay | Former land & property director | £214,773 |
| Mark Fell | Legal services director & company secretary | £199,573 |
| Leon Daniels1 | Former managing director surface transport | £195,353 |
| Howard Smith | Director of operations | £183,075 |
| Chris Binns | Chief engineer | £170,980 |
| Jeremy Bates | Head of infrastructure | £163,488 |
| Richard Palczynski | Programme controls director | £161,635 |
| Matthew White | Surface director | £156,943 |
| Will Parkes5 | Former external affairs director | £113,560 |
| Ian Nunn2 | Former chief financial officer | £105,136 |
| Duncan Pickard6 | Former stations delivery director | £87,656 |
| Derek Baille3 | Former project manager property development | £27,318 |
| Garrett Emmerson4 | Chief operating officer | £15,711 |
Source: TfL Annual Reports and Statement of Accounts 2017-18
Notes:
1. Left service 20 December 2017
2. Passed away 25 July 2017. Salary sacrificed for pension of £2,427 (2016/17 £7,504)
3. Left service 30 June 2017. Paid for providing services 1.5 days per week
4. Left service 30 April 2017. Salary sacrificed for pension of £631 (2016/17 £7,504)
5. Left service 31 December 2017
6. Left service 29 September 2017
7. Paid for providing services three days per week