Around 180,000 homes are predicted to be built along the line by 2026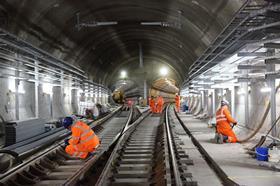 The number of houses being built along Crossrail's route is expected to soar above the number predicted six years ago, new research into the impact of the Elizabeth Line has revealed.
The Crossrail Property Impact & Regeneration Study: 2012 – 2026, from property consultancy GVA, predicted 90,599 new homes along the route by 2021 and 180,000 by 2026 – far greater than the 57,000 new homes by 2021 that was predicted in previous report.
It also found 70% of residential schemes permitted in station locations along the new route have now started, as opposed to an average of 59% of schemes in the corresponding wider borough areas.
The impact outside central London was explored in detail, with town centres in towns such as Ealing, Woolwich, Ilford and Romford being rejuvenated as the construction of new homes and offices attract more businesses and residents
The report also revealed there was almost 410,000m2 of commercial office and retail space expected along the line by 2021, up from the 310,000m2 predicted in 2012.
Andrew Wolstenholme, chief executive of Crossrail, said: "As well as cutting journey times and giving passengers more options, it (Crossrail) is driving regeneration across London and the South East.
"With less than a year to go until the Elizabeth line opens, this new report by GVA reveals the true extent of the impact, and lays out some of the key lessons for future infrastructure projects."
One of the key findings was the need for coordination between stakeholders, with public-sector interviewees reporting to the GVA that "all stakeholders in the railway industry need better co-ordination from the start to ensure infrastructure is designed to cater for growth and regeneration."
Private-sector stakeholders also cited the need for joint working to maximise the opportunity around station locations, particularly where land ownership was fragmented.
Transport minister Jo Johnson added: "This report underlines the wider significance of Crossrail as a catalyst for jobs, homes and regeneration across the South East and sets an ambitious standard for future projects to aspire to."
Crossrail's route will link 41 stations from Reading and Heathrow in the west, through new twin-bore 21km tunnels to Shenfield and Abbey Wood in the east. It will be named the Elizabeth line when services through central London open in December.