Contractors on Crossrail are on target to reduce carbon emissions from the project by 8%, according to Crossrail's annual sustainability report.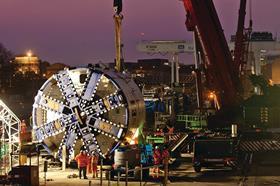 The report said that contractors on the £15bn project were ahead of schedule on delivering Crossrail's target of an 8% reduction in carbon emissions.
Contractors working on the project include Balfour Beatty, Costain and Vinci, among many others.
The report said a range of low energy solutions had helped firms lower their carbon emissions including LED lighting; equipment power by hydrogen fuel sells; insulated onsite accommodation; hybrid plant and increased staff training.
The report also found that the project was exceeding its target of diverting 95% of construction waste from landfill, it was diverting over 99%.
Plus, it found Crossrail had reused or recycled over 99% of excavated material from its sites.
The design of all the tunnels, shafts and transit portals have so far been awarded an "excellent" rating under the Civil Engineering Environmental Quality standard.
Environment Minister Lord de Mauley said environmental issues affected "every single one of us". He added: "Crossrail is a prime example of a huge infrastructure project that will help grow the economy while protecting the environment."
The report also showed the project was hitting its social sustainability ambitions with 97% of Crossrail-related contracts going to UK firms.