Railway's boss says 'considerable amount of work' still required at station
Crossrail is racing to get Bond Street station to a suitable level of completion to keep it on track with the rest of the project.
While the station last month reached the milestone to be ready for trial running – the next key phase of testing – there is still significant doubt it will be ready for the next stage of trials.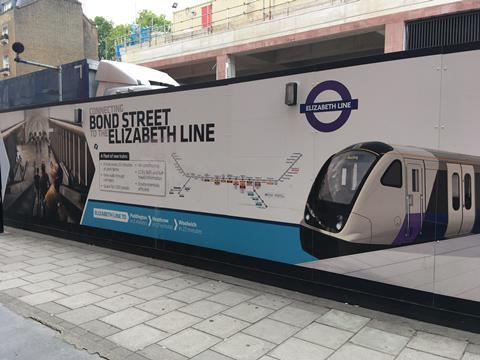 In a letter to London Assembly transport committee chair Alison Moore, Crossrail chief executive Mark Wild revealed there was still a significant amount of progress required for it to be able to support trial operations.
He added: "Bond Street has now been certified as ready for trial running and means that all central section stations are able to support the start of intensive operational testing next year.
"We are continuing in our efforts to get Bond Street ready for the opening of the central section but there remains a considerable amount of work to do before it is ready to support the trial operations phase."
Crossrail took control of completing the Bond Street project after parting ways with previous contractors Costain and Skanska over the summer.
The letter also revealed the expected completion dates of upgrades to the delayed Ilford and Romford stations.
The stations, which are being carried out by VolkerFitzpatrick, were due to be finished by the end of this year.
But a string of delays including covid-19 meant that the works, which are the responsibility of Network Rail, missed their deadlines. Ilford will now finish next May and Romford at the end of next year.
The letters follows reports that Crossrail Andy Byford, the London transport commissioner, wrote to Bernadette Kelly, the permanent secretary at the Department for Transport last week, seeking £80m of immediate support to keep the project on track – or risk the project being mothballed.