A £1bn order of new trains for Crossrail among first infrastructure projects to receive government guarantee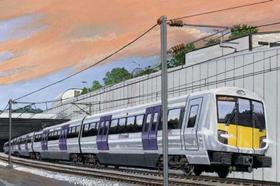 A £1bn order of new trains for the Crossrail east-west London rail is set to be among the first large infrastructure projects to receive a guarantee from the government under its UK Guarantee scheme, according to reports.
According to the Financial Times, chief secretary to the Treasury Danny Alexander is set to use his conference speech tomorrow to announce the first projects to receive a guarantee through the UK Guarantees scheme, with a £1bn order for new Crossrail trains among those to be announced.
The FT said the order was for a depot and 60 trains to be used on the new Crossrail route, with the government hoping that the guarantee would drive down the cost of the rolling stock order, which was launched in February.
The government is providing 30% of the funding while the rest will be financed by a private finance initiative (PFI) and some borrowing from Transport for London, the FT said.
The FT said ministers had also been drawing up plans to underwrite the Thames Tideway Tunnel 'super-sewer' scheme, although an announcement on a guarantee for that scheme may not form a part of Alexander's speech.