Ealing council leader hails "special" redevelopment of town centre station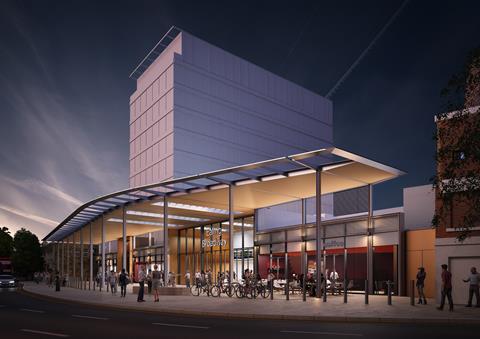 Crossrail has unveiled revised plans for its controversial Ealing Broadway station following concerted pressure from campaigners and a wider row over the design quality of outer London stations on the £15bn project.
The redesign, drawn-up by architect Bennetts Associates, includes an enlargement of the ticket hall and a more extensive covered public realm space to the front of the station.
Matthew White, Crossrail's surface director, also confirmed that Crossrail was in the process of modifying designs for a number other stations.
This comes after Building last year revealed that Crossrail had shunned the use of the design review process on its 27 outer London surface stations, sparking warnings from leading architects and local authorities that rail bosses were missing a once-in-a-century chance to produce well-designed stations that will stand the test of time.
Bennetts Associates' original design for Ealing Broadway, which was submitted for planning permission last year, came under fire from Ealing council and local groups and became the focal point of the row around the design quality of the redeveloped surface stations on the £15bn Crossrail project.
Last year a spokesperson said the council was "unhappy" with the original plans and that the "façade and entrance need to have a more innovative design and use more interesting materials".
In response, Crossrail instituted a design steering group with contributions from architect HOK, who were appointed by the council, and Allies and Morrison and Child Graddon Lewis, who are working on nearby developments.
The revised plans, unveiled today, include nearly doubling the size of the ticket hall to include 17 barriers and improving space for people to queue to buy tickets.
A revised canopy in front of the station will link the adjacent buildings and is designed to turn the station into a landmark within the town centre.
Speaking today, Julian Bell, leader of Ealing council, said: "It's fair to say that when the original application came in we were fairly underwhelmed.
"We feel through this process we have got something rather special and that does something that we want it to do."
However, local campaign group Save Ealing's Centre wrote to London's deputy mayor for transport Isabel Dedring earlier this month to say even the revised designs left them with major concerns.
The letter signed by the leaders of local campaign groups and Sir Peter Hall, Bartlett professor of planning and regeneration, said: "While the new designs are a significant improvement, they shame the wonderful tradition of station design, begun by Brunel."
As revealed by Building last year, Crossrail came under pressure from a raft of star architects including Richard Rogers, Will Alsop, architect of North Greenwich station, and David Marks, co-founder of Marks Barfield Architects, to undergo a design review process on the 27 outer London surface stations.
In February, Andrew Wolstenholme, Crossrail chief executive, paved the way for a U-turn on that decision, saying there was "still an opportunity" for the redeveloped surface stations on the line to be externally reviewed.
But this week White said while there was still the "option" to use the Cabe design review, Crossrail preferred to use "design steering groups" with a collection of local stakeholders.
He said: "It has been a very productive way to draw out what are the objectives where we need to improve the design.
"In other areas we are working with the council to focus on the council masterplan and what role they see the station playing."
The plans for Ealing Broadway are currently out for consultation with the community.