Site set to be given deep-clean after worker tests positive for disease
Crossrail's Bond Street job became the second major site in London in a week to be hit by the coronavirus outbreak after it was told to shut down for a deep-clean today.
Last week, work on the new Google headquarters in King's Cross was brought to a halt after a contractor who had access to the site office tested positive for coronavirus.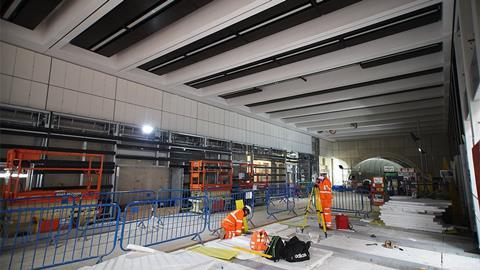 Lendlease shut the job down for a deep-clean last Thursday before re-opening it on Monday afternoon.
A Crossrail spokesperson said: "A member of the Bond Street team has tested positive for Covid-19 while on annual leave. In line with Public Health England guidance, the individual's immediate colleagues have been asked to self-isolate. As a further precaution the site has been closed today (19 March) to allow deep-cleaning of the areas used by this operative team."
The site, which is being built by a Costain/Skanska joint venture, is one of the largest in the capital and was last summer flooded with extra workers to get the late-running station ready.
Around 500 workers are believed to be on Bond Street.
The railway's chief executive Mark Wild admitted: "While we are doing everything we safely can to keep the programme on track, covid-19 will have an impact – it's too early to tell what that impact will be.
"We are doing everything we can to support our contractors during this difficult and challenging time and we will do what we can to keep individual sites open and productive as best as we can."
Crossrail has earlier announced that all non-essential site visits along the route would be put on hold, to limit the impact of the virus.
Today Transport for London announced the closure of 40 non-interchange Underground stations to stem the spread of the virus in the capital.