Mipim latest: Land owner says it will work with JV partners on Regent Street and St James's projects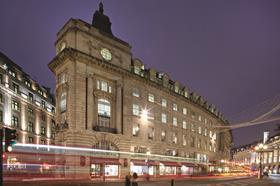 The Crown Estate is working up plans for its next big redevelopment push in London's West End, Building can reveal.
Matt Giles, the land owner's head of development, told Building at the Mipim property conference in Cannes that it was preparing to submit a flurry of schemes for planning over the next 12-18 months.
The Crown Estate – whose profits go to the Treasury and to the upkeep of the Royal Family – owns a swath of lucrative West End property, including the whole of Regent Street (pictured) and nearby St James's.
Giles said the client had delivered over 1 million ft2 of redeveloped West End space over the past 15 years and can see the potential to deliver a similar amount again.
He said: "We are working hard with our JV partners and design teams to reposition the next major opportunities across Regent Street and St James's."
He added: "For us it's about looking at delivering buildings that respond to the sustainability and wellbeing agendas."
The client is currently progressing a number of West End schemes, including the £100m John McAslan-designed redevelopment of Duke's Court near the Ritz Hotel - which Skanska was appointed to build in December.
Last year the firm also won planning permission for the redevelopment of grade II-listed Morley House on Regent Street.
The Crown Estate recently renewed its consultancy framework, with Alinea, Gardiner & Theobald and Aecom among those winning spots. The developer is also working extensively with project manager Buro Four.
The Royal Family is set to benefit from an increase in the sovereign grant it receives from the Crown Estate after parliament approved a temporary increase in the amount of profit it receives from the landowner to 25%, up from 15%.
The upturn will be used to pay for the £369m restoration of Buckingham Palace.