Council issues requisition letters to help Hammerson and Westfield progress £1bn scheme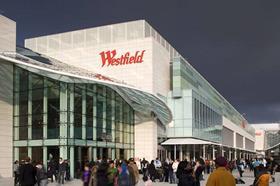 Croydon Council has stepped in to help Westfield and Hammerson purchase the land necessary for its £1bn mega mall in Croydon town centre.
The council is understood to have sent around 200 requisition letters to affected landlords notifying them of its intention to pursue compulsory purchase orders if commercial deals cannot be agreed to sell their stakes to the Westfield and Hammerson joint venture.
The Croydon scheme is the largest planned retail scheme in the UK. It will provide around two million sq ft of redeveloped space and will have a catchment area of around 2.5 million people in south London and the wider region.
Westfield and Hammerson united to form a joint venture in January, ending an 18-month stand-off between the two developers over control of the development site.
The architects are Allies & Morrison and Leonard Design Architects, the cost consultant is Sweett Group and the engineer is Waterman.
The council will make a decision on Westfield's outline planning consent in September.
Croydon Partnership said in a statement: "The essential redevelopment of the retail town centre will be a wider catalyst for the regeneration of Croydon creating over 5,000 jobs and bringing economic and social benefits to the town.
"The land assembly process is vital to bring forward this development at the earliest opportunity.
"The Croydon Partnership is working within the legal framework alongside the Council, and it is our priority to ensure that all businesses involved are consulted. While there is strong local support for the development, we are sympathetic to the impact our proposals will have on some local businesses, and we will be working closely on a one-to-one basis.
"For businesses that would like to remain in the town centre, we will work with each business to seek long and short term solutions."
Statement from Croydon Council: "Plans to regenerate the town centre, and to create business opportunities and thousands of new jobs, are a major priority for the council. We are currently working alongside The Croydon Partnership, to gather information about the land which would be needed for development on this scale to take place.
"We understand the impact the proposals may have on businesses and we are in the process of making contact with all those potentially affected.
"If redevelopment gets underway the council is determined to make sure the Whitgift Centre remains vibrant for as long as possible, that local employment levels are not affected and that disruption is kept to a minimum."