Ecobuild latest: Energy secretary pledges to fix Green Deal and launches consultation on changes to ECO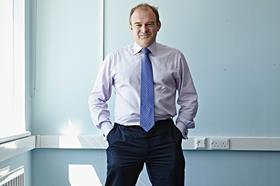 Energy secretary Ed Davey has pledged to improve the "clunky, "complex" and "disappointing" Green Deal.
Speaking at Ecobuild yesterday, Davey launched a consultation on changes to the Green Deal's sister scheme the Energy Companies Obligation (ECO) admitted that the take-up of Green Deal finance had been "disappointing" and that the finance system was "clunky and complex".
He said introducing changes one year after the launch of the programmes "shouldn't be too surprising given the scale of the ambition" of the schemes.
He said the government would be unveiling further incentives for the scheme in the coming weeks.
It has already announced plans to give people a rebate on their stamp duty if they improved the energy efficiency of a newly purchased home.
Davey said that from early on the government had been "looking for ways to streamline" the Green Deal.
He said: "So, for example, the simple on-line Home Energy Tool is now available - to help people check quickly what types of improvements would benefit them and what support they can get."
He also said the government has "stripped out red tape" from the lending process so customers could sign a plan on the same day as they got a quote.
Davey also admitted the government had made a mistake in its drafting of the 2011 Energy Act, which underpins the Green Deal, in not making it clear whether responsibility for paying the Green Deal charge lay with landlords or tenants in the rented property sector.
He said: "I've always regarded the Green Deal - with the Green Deal finance plan - as tailor-made for the private rented sector.
"But a mistake was made. And we've corrected it. Now, as of last month, Green Deal Providers can access the as yet untapped demand in the private rented sector."
He said the number of Green Deal plans signed in the scheme's first year was "disappointing".
The latest government figures show 1,227 Green Deal plans had been signed to the end of January 2014, of which 746 were completed.
But he added that selling finance plans was not the main purpose of the scheme: "The fact that most people currently having a Green Deal assessment are not then going on to choose Green Deal finance plans shouldn't actually worry us.
"How people pay for energy efficiency improvements is not after all the main issue."
"The aim of the Green Deal isn't to sell credit plans, but to make our homes warmer, cheaper and greener."
Paul King, chief executive at the UK Green Building Council, said: "Ed Davey is right to acknowledge that Green Deal hasn't got off to the bright start we had hoped for. But if Government is disappointed by take-up, it must take urgent action to address it.
"Nudging Stamp Duty would help to create household demand for energy efficiency and rescue the Green Deal."