Administrator will auction off assets of stricken steel specialist if no takeover offer is tabled by 1 July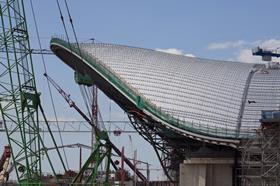 The administrator of stricken steelwork specialist Rowecord has given interested buyers a deadline of 1 July to table an offer.
Building revealed in May that three overseas firms are interested in acquiring parts of the firm – primarily the firm's main operations at its headquarters in Newport.
Administrator Grant Thornton said it would auction off all of Rowecord's plant and machinery on 1 July if a takeover deal is not concluded by then.
Grant Thornton has received two offers to purchase the plant and machinery on a break-up basis but rejected these.
The administrator kept on 75 staff to finish work in progress, including steelwork on an extension to the British Museum. All this work will be completed within three weeks.
A potential buy-out could result in some of the 435 Rowecord staff that have been made redundant being taken back on.
Rowecord built the roof of the Zaha Hadid-designed Olympic Aquatic Centre (pictured) as well as the stadiums for Cardiff City Football club and the Llanelli Rugby Club.
It is currently working on major projects at the Dover Docks and the British Museum.