Exclusive: Sir Stuart Lipton's team seals deal to take over mothballed tower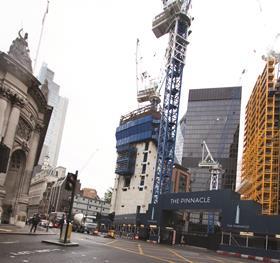 Developer Lipton Rogers has today finally sealed a landmark deal to rescue London's stalled Pinnacle tower, Building understands.
A source close to the negotiations told Building the financing deal to restart work on the project was now over the line.
Lipton Rogers - founded by veteran developer Sir Stuart Lipton and former Stanhope director Peter Rogers in 2013 - have agreed a deal to build a brand new design for the scheme, scrapping the tower's original 'helter skelter' shape.
Building understands visualisations leaked to Skyscrapercity earlier today are working models of the new design and not final designs.
Building first revealed last November that Lipton Rogers was the developer involved in the exclusive talks to buy the development with Axa. Building first linked Lipton Rogers to the Pinnacle scheme in February 2013.
Lipton Rogers' project design team includes architect PLP, engineer WSP and cost consultant Alinea, as also first revealed by Building.
After protracted negotiations over the past four months, Building understands Axa and Lipton Rogers' team struck a deal today to buy the development from its Saudi Arabian owners.
The City of London has been expecting a fresh planning application with an entirely new design for the mothballed site since at least last autumn.
The Pinnacle has been lying dormant since 2012 when finance dried up, after construction of only nine floors of concrete core, earning it the nickname "the stump".
Property agent CBRE was drafted in by majority owners Sedco and sharia-compliant fund Pramerica in 2013 to explore options for reviving the scheme and this process has now completed.