Steve Rawlings to join Lakehouse board as non-executive director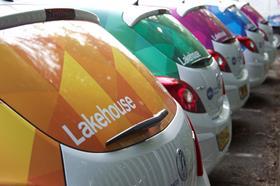 Lakehouse's founder Steve Rawlings and investment group Slater Investments have struck a deal with the contractor to end their row over the make-up of the board.
With immediate effect Lakehouse's chairman Chris Geoghegan departs the board and is replaced by Ric Piper, while Rawlings will join as a non-executive director and Robert Legget is to become the senior independent director.
Jill Ainscough and Johnathan Ford remain as non-executive directors.
Subject to the approval of Lakehouse's shareholders, the firm will seek the indefinite adjournment of the general meeting that was scheduled for tomorrow after a revolt by shareholders led by Rawlings.
Rawlings and fund manager Slater Investments, who between them own more than 20% of the business, had demanded that Chris Geoghegan, Jill Ainscough and Jonathan Ford be removed from the board and be replaced by Rawlings, former Atkins finance director Ric Piper and Robert Legget.
Mark Slater of Slater Investments said: "This is pretty well what we wanted, so we're happy with that […] We're happy to move on and move forward now." Steve Rawlings has been contacted for comment.
The revolt followed a profit warning by Lakehouse in February on the back of the government's squeeze on social housing, which saw the value of its shares plummet.
Speaking to Building earlier this month Rawlings admitted it was the drop in the share price that sparked the revolt.
His personal 15.5% stake - which amounts to just under 24.5 million shares – dropped in value to £12.1m having four months previously been worth £22.8m.
Rawlings added that he was concerned the firm's regeneration arm is "going backwards". Analysts at Peel Hunt have commented that this side of Lakehouse's business has taken a hit in 2016 from "clients curtailing anticipated planned maintenance programs" due to social landlords cutting back capital works.
In response to the revolt Lakehouse's board had offered to create a fourth non-executive director position instead "to avoid further adverse disruption and unnecessary cost," advising shareholders to reject Rawlings' and Slater's resolutions.
Lakehouse chief executive Stuart Black, who left Mears in 2008 to become Lakehouse's executive chairman and is now acting as chief executive following the Sean Birrane's decision to step down in March, said the intervention was "hugely destabilising, we'd like it to stop as quickly as possible."
Rawlings set up Lakehouse in 1988 stepping down as chief executive in October 2014 in order to spend more time running his training-focused social enterprise Building Lives.