Perry Barr scheme will not be used during event in 2022
A new timetable to build the homes that were intended to make up the athletes' village for the 2022 Birmingham Commonwealth Games has not yet been confirmed with the council looking again at what sort of homes it will build at the site.
Birmingham council leader Ian Ward said the project (pictured), which is being built by Lendlease, will be rethought now that it will not be used for the 2022 event.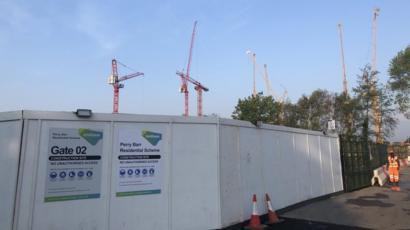 He said: "We now have the opportunity to look at the housing mix we are building at the Village. Also, we won't have to retrofit post-Games.
"So we can look again at the timeline for delivery of the 2,000 homes we are going to deliver on that site and when we have concluded that work, we will have something to say to the wider world."
Yesterday organisers of the Games cancelled plans to house athletes and officials at the Perry Barr complex because of delays caused by the covid-19 pandemic.
There have been growing concerns about the project with the council's audit committee giving the scheme a red risk-rating last week – meaning it had a high level of concern about the programme.
But Ward confirmed the council would be sticking with the existing project team on the programme.
He said: "The project team that are delivering the Village will remain in place. We are in talks with government about the capital board that oversees all three of the major capital projects for the Commonwealth Games and we are in discussions about an independent chair for that." The other two major schemes being built for the event is the aquatics centre, where the main contractor is Wates, and the centrepiece main stadium, being built by McLaughlin & Harvey.
Other firms involved in the Village project include local practices Glancy Nicholls Architects and Glenn Howells Architects.
Arcadis is carrying out work on the landscaping, with Phil Jones Associates providing urban design and civils services. Hoare Lea is M&E engineer and Couch Consulting the structural engineer. Kier and Willmott Dixon have both been involved with building new housing at the site.
Athletes will now be housed at three locations instead of the planned single-site venue. They will be at the NEC hotel, the University of Warwick and the University of Birmingham.