Transport Scotland caught off-guard by Balfour Beatty's revelation last week road would not complete until this summer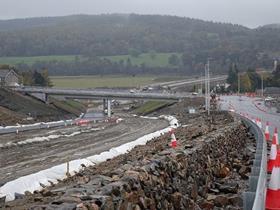 The Scottish government has said the opening date of the Aberdeen bypass which bosses at Carillion blamed for helping send the firm under has been delayed again.
Transport Scotland said it had been forced to amend the opening date until the autumn – meaning it will be a year late – after Balfour Beatty last week said the 58km long road had been due to open "in the summer of 2018".
According to the agency, the road had been due to open this spring but Transport Scotland said it had conducted urgent discussions with Aberdeen Roads Limited (ARL), the consortium building the road, "following an announcement by one of the consortium's partners during the posting of their annual results, that they expected the completion date to be summer 2018".
The £550m road, which has been blighted by weather issues and problems with utility diversions, had originally been due to open last autumn.
Last week Balfour Beatty chief executive Leo Quinn said Balfour and Galliford Try had barely been able to lay any blacktop since the middle of December because of poor weather.
Economy secretary Keith Brown said: "While this revision to the opening date is very disappointing to the people of the North East, we have to accept the expert advice of our contractors on the ground who are delivering this significant project.
"The total scheme cost estimate is £745m and this remains unchanged as part of this announcement. Under the terms of the contract, ARL does not receive payment for the work until a section of road is open to traffic."
Balfour Beatty's 2017 results confirmed that Carillion's implosion in January had cost it £44m on the job.
And Galliford Try revealed in its results last month that it had taken a further £25m hit on the scheme on top of losses it announced on the job last year.
Both Quinn and Bill Hocking, the head of construction at Galliford Try, have said they would never have bid for the road if they had been in charge at the time the deal was inked back in December 2014.